This Woman's Deplorable Crime Is Putting a Controversial New Drug Law to the Test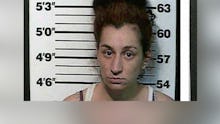 The news: One of the biggest criticisms of the "war on drugs" is that it criminalizes drug addicts instead of helping them get treatment — but what about addicts who put innocent people at risk?
Shortly after giving birth, new mother Mallory Loyola, a 26-year-old woman in Tennessee , was the first person charged under a new state law that prosecutes women who use drugs while pregnant.
Both Loyola and her baby tested positive for meth at the hospital; Loyola later admitted that she had smoked meth just days before giving birth. She has been charged with a misdemeanor and released on bail, but for advocates on either side of the issue, the fight has just begun.
Everyone can agree that this is a serious issue. It's near impossible to defend abusing drugs while pregnant, given all the possible complications for the baby. That was Tennessee Governor Bill Haslam's reasoning when he signed the bill into law back in April. "The intent of this bill is to give law enforcement and district attorneys a tool to address illicit drug use among pregnant women through treatment programs," he said at the time.
And it's clear that Loyola is being made into an example. "Anytime someone is addicted and they can't get off for their own child, their own flesh and blood, it's sad," Monroe County Sheriff Bill Bivens told ABC News affiliate WATE-TV. "Hopefully [Loyola's arrest] will send a signal to other women who are pregnant and have a drug problem to seek help. That's what we want them to do."
But is this actually effective? The law allows mothers to be "prosecuted for assault for the illegal use of a narcotic drug while pregnant" and can even lead to a homicide charge if the baby ends up dying. But there is little evidence that this criminalization serves as a deterrent — in fact, it may actually prevent pregnant women from seeking help with their addiction over fears that they might be arrested.
The American Civil Liberties Union of Tennessee has said that there are "serious constitutional concerns regarding equal treatment under the law," and is planning on challenging it.
"This dangerous law unconstitutionally singles out new mothers struggling with addiction for criminal assault charges," Thomas Castelli, legal director of the ACLU Tennessee, said in a statement. "By focusing on punishing women rather than promoting healthy pregnancies, the state is only deterring women struggling with alcohol or drug dependency from seeking the pre-natal care they need."
There is also the matter of selective criminalization: There are currently no laws in Tennessee that criminalize drinking or smoking while pregnant, despite the fact that while 6% of pregnant women abuse drugs, 9% drink and a whopping 16% smoke cigarettes.
That doesn't mean that every woman who consumes something unhealthy during pregnancy should be thrown in jail, but it does raise the question of whether criminalization is ever a workable solution to battling addiction. Addicts are, by definition, people who suffer from an illness and simply arresting them is not going to change their condition. The state should be encouraging addicted people to seek help, not run away from it — and this law is doing the very opposite of that.