Meet the Brave Transgender Musician Who's Tearing Down Bias in Her Home Country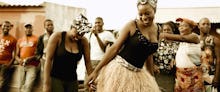 Luanda, Angola, isn't an easy place to be transgender, but there's no better place to be a kuduro artist. Twenty-six-year-old Titica is both.
The singer was born Teca Miguel Garcia in Luanda, the birthplace of a genre known as kuduro. Kuduro sounds like a titillating mix of hip-hop, R&B and dance music. When done properly, as on Titica's first massive hit, "Chao Chao," it tends to be irresistible. That kind of exposure can be a problem when you're transgender in a country where "acts against nature" are punishable by hard labor.
Most Americans don't know the moves to "Chao Chao," but people may be more familiar with kuduro than they think. Don Omar's 2011 "Danza Kuduro" was an earworm that performed incredibly well in the U.S., landing at No. 82 on the mainstream Billboard Top 100 and selling more than a million copies in the United States. The rest of the world is well ahead of us on the kuduro curve, as the song reached No. 1 status in Italy, the Netherlands, Spain, Switzerland and Germany. For that reason, Titica has begun drawing international attention.
She has traveled worldwide and toured in America and Europe, winning accolades everywhere she goes. Back home, she's managed to transcend the difficult political climate by the sheer irresistibility of her songs. Teddy Goitom, a filmmaker who has directed some of Titica's music videos, emphasized that in the country, her music reverberates everywhere. "She's on everybody's lips," he said; "everybody knows her songs, they're into all the famous dance videos and know her dance moves by heart."
"I am very happy. It has taken a while to get here and involved a lot of sacrifice, but thanks to God, everything is going well for me," Titica told the BBC in 2012. "I've been stoned, I've been beaten, and there is a lot of prejudice against me, a lot of people show that. There is a lot of taboo." But that's why she makes music that people can't help but love.
The beating heart of kuduro lies in giving voice to those who have not historically had one, in transcending barriers and turning sorrow into boundless energy and joy. Titica sings hopefully and boldly about usually forbidden topics in Angola. In the steamy "Don't Touch Me," Titica takes on sexual harassment. On "Ohla O Boneca," her 2012 collaboration with fellow Angolan singer Ary, she made a bold stand for equal love. Now she's raising her profile by starring in Portuguese director Mario Patrocinio's I Love Kuduro, a documentary that deals with kuduro's activist potential, and releasing yet another brilliant song with Ary, 2014's "Pelo Menos 50."
Famed kuduro producer (and son of Angola's current president) Coréon Dú told NPR, "You know, when kuduro started, we were a country at war, and our young people and even our older generation was trying to make their kids … feel comfortable and try to transmit, however possible, a sense of normalcy. Kuduro was more a celebration of being alive. We wanted to focus on the positive."
In 2013, Titica was named a goodwill ambassador for UNAIDS because she embodies the best of that history. On her appointment, she spoke proudly: "I have been... picked on just for being who I am. But I am ready to lead by example to fight against stigma and discrimination in my country and beyond." At a time like this, when Angola has seen a rise in new HIV infections and AIDS deaths in the past 10 years, while the Ministry of Health continues barely to address non-heterosexual HIV transmission, Titica's well-publicized appointment has the potential for real social good. Because when you have a voice like Titica's, it carries.