Five Incredible Baseball Standouts Who Deserved to Play in Tuesday's All-Star Game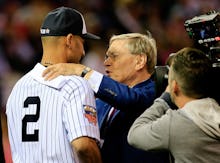 The very best of Major League Baseball was on display Tuesday night in Minnesota as the annual All-Star Game showcased veteran standouts like Derek Jeter (two hits) and rising phenoms like Mike Trout (a triple and a double to win MVP honors).
While those two validated their spots as the American League earned its 13th win in 17 years — even if Jeter's inclusion was more of a lifetime achievement award — not every so-called All-Star was entirely deserving. That's no small concern in an exhibition that just happens to determine home-field advantage for the World Series.
Here's a look at five deserving players who watched the MLB's midsummer classic from home like the rest of us.
Corey Kluber, RHP, Cleveland Indians
Image Credit: Getty Images
When the Harvard analytics gurus devote an entire website to you, you've earned your spot in the big leagues. Kluber sports a 3.01 ERA and ranks among the league leaders in strikeouts for the Indians. Instead of seeing Kluber, fans were treated to less qualified relievers like Fernando Rodney and Glen Perkins.
Rick Porcello, RHP, Detroit Tigers
Image Credit: Getty Images
Kluber's AL Central rival has been lights out this season. The 25-year-old is 12-5 on the year with a pair of complete-game shutouts over the past month. Much like Kluber, the Tigers' starter was left off for relievers that the casual fan doesn't want to see.
Kyle Seager, 3B, Seattle Mariners
Image Credit: Getty Images
Seattle's third baseman was left off the roster and watched fellow teammate Robinson Cano get the nod as a starter. Sure, Cano has had a great year; Seager, however, has been much better. Batting .279 with 15 homeruns in perhaps the worst hitters' park in baseball, Seager was the Mariner that should have made the trip to Minnesota.
Scooter Gennett, 2B, Milwaukee Brewers
Image Credit: Getty Images
Though Jose Altuve is the only player smaller than Gennett at their position, the Brewers' second baseman is hitting .305 for a first-place Milwaukee club. The Mets sent Daniel Murphy — by far their best player — to the All-Star Game, but only because each team has to be represented by at least one player regardless of merit. Gennett deserved the nod for his own and his team's performance.
Jeff Samardzija, RHP, Oakland A's
Image Credit: Getty Images
The trade that sent the former Cubs' starter to Oakland kept Samardzija out of this year's midsummer classic and it was disappointing that he missed the chance to showcase his talent on a national stage. The Cubs were so dismal that Samardzija did not get his first win of the season until Memorial Day weekend. At that point in the year, he boasted a 1.68 ERA in 11 starts behind an average of less than two runs in support per game. The rules won't let Samardzija pitch in the All-Star Game, but it's still criminal that arguably the game's best pitcher not named Clayton Kershaw was sidelined.