Hillary Clinton Basically Admitted the One Thing We've Been Waiting to Hear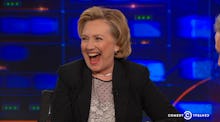 Hillary Clinton, despite writing a book and traveling around America giving speeches, will not acknowledge that she's running for higher office.
And Jon Stewart is having none of it.
The Daily Show host had Clinton on his show yesterday in what may have been the easiest and hardest interview she's ever faced. He pushed her on the topic of her career aspirations even though they both probably know the answer.
The best sequence:
All images: sandandglass/Tumblr
The book: Stewart's interview also touched on Clinton's book, Hard Choices, which she was ostensibly there to promote. Writing a big ol' book with your big ol' face on the front is pretty much a prerequisite for running for office; Barack Obama had The Audacity of Hope, Mitt Romney had No Apology and Michele Bachmann had a human skin-bound necronomicon that screamed when you opened it. (Just kidding! She wrote Core of Conviction.)
Generally these books are pretty pointless, offering a glorified biography with general outlines of policy goals (maybe restoring America, or strengthening America, or pushing America forward). That hasn't stopped political media from reporting on Clinton's book sales as if they might mean something — though in fairness, they've got to cover something until the campaign starts in earnest.
Stewart wasted no time lampooning Hard Choices. "Note for your editor," he said about the 635-page book. "Look at that baby."
The takeaway: Hillary Clinton is running for president. But that doesn't mean you're not going to hear a lot more "speculation" about it from political commentators who are a lot more tactful — and thus a lot less entertaining — than Jon Stewart. See the full interview below: