The WNBA's Most Popular Jersey Belongs to a Native American Trailblazer You've Probably Never Heard Of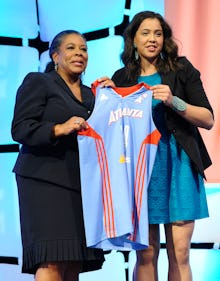 Shoni Schimmel has always been busy breaking records. But this one is even more special as it's one of the firsts of her pro basketball career. Rookie Schimmel's No. 23 Atlanta Dream jersey is the top seller among all players in the WNBA this season, the league announced.
Schimmel and her younger sister Jude, members of the Confederated Tribes of the Umatilla in eastern Oregon, have now been the trailblazers and inspiration for Native American athletes and tribes across the country for many years, and this recent accolade only establishes her status further as a groundbreaking Native American athlete. 
Image Credit: WNBA
At her Louisville senior night this March, Native Americans from as many as 40 states and as far away as Alaska traveled in biting cold, spending sleepless nights on the way, to watch Schimmel play. Eventually it was a crowd of more than 22,000 people. Schimmel signed autographs and met with fans for four hours after the game, and the evening was dubbed Native American Appreciation night.
"We're witnessing something that hasn't been done in women's basketball," Schimmel's teammate at Louisville, where she played in the NCAA for four years, Tia Gibbs said that night. "We go anywhere in the country, and we've got more fans in red than the other team has on their home floor. What they're [Shoni and Jude] doing for the whole Native American culture is very special. And they're kind of showing them what can be done, just if you jump out on a leap of faith."
And now Schimmel's popularity has made sure that she beat Skylar Diggins, Elena Delle Donne and WNBA favorite Brittney Griner in the jersey sales this season. Schimmel's popularity among Native Americans has also made Dream the No. 1 on the league's team merchandise list for the first time in the franchise's history.
But they were prepared for this kind of a reception for Schimmel when they picked her. When Schimmel was selected as the eighth over all in the draft, she became the highest drafted Native American player in WNBA history. Brad Gust, spokesperson for Atlanta, said the followers of Dream's social media sites skyrocketed when Schimmel was drafted. And when Atlanta plays on the road, Gust says even opposing teams ask Schimmel to make post-game appearances for their fans.
Then Schimmel tied the franchise record with an amazing 11 assists in her home debut. She was recently chosen as a starter in the 2014 WNBA All-Star game with a massive 25,601 votes. These are path-breaking stats for a Native American athlete, raised in a reservation community in Oregon amidst eight children. 
"I think of myself as very different, because I did come off the reservation," Schimmel said in a popular 2011 documentary Off The Rez. "Not many people are doing what I've done."
Her parents had fears, too, for whether their children would be able to break the many stereotypes that Native Americans face. "NCAA programs are afraid to take chances with Native Indian kids. Common thoughts are that Native Americans don't go to college be successful student athletes because they long for their home and want to be back with among their people," Schimmel's father John Schimmel said.
But Schimmel has achieved all that she has while truly embracing her Native American heritage and choosing to be an inspiration for others. There are more than five million Native Americans in United States according to the 2010 census, and 22% of them still live on tribal lands in abject poverty. At a time when Native Americans face severe health issues and stereotypes, such as alcoholism, Schimmel helps to fill the void of role models in the community. 
And her hard work has been able to unite the different Native American tribes in a way that few other things can. Her fans have always said that it doesn't matter whether she is from their tribe or not, she is a champion for all the indigenous people. "If we go out there and succeed, it's kinda like they succeed too because we came from there," Schimmel said in the documentary.