If Your State Had a 'Game of Thrones' Sigil, This Is What It Would Look Like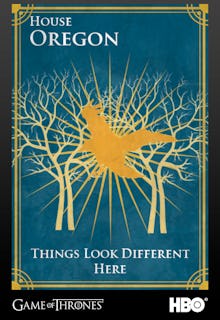 In the wake of the most recent Game of Thrones season finale, we've all found different ways to cope. Some read the books, some took quiz after quiz telling you what house you would be in and what your name would be. Others decided to take to HBO's sigil maker and design banners for all 50 U.S. states.
Although the creative possibilities of the sigil maker are limited (prepare for a lot of ravens and stags), creator Anthony Booyay did his research. "I either used the states [sic] motto, "tweaked" the motto, went by the state slogan or made a play on the states [sic] nickname or popular saying," the creator wrote.
New Jersey, for example, features the state motto and symbol of a horse. New York's new logo makes reference to its place as the "Empire State."
In case you wanted to know what your home state would look like if it were a feudal family in quasi-medieval pseudo-Earth, here are all 50 for your viewing pleasure:
1. Alabama
2. Alaska
3. Arizona
4. Arkansas
5. California
6. Colorado
7. Connecticut
8. Delaware
9. Florida
10. Georgia
11. Hawaii
12. Idaho
13. Illinois
14. Indiana
15. Iowa
16. Kansas
17. Kentucky
18. Louisiana
19. Maine
20. Maryland
21. Massachusetts
22. Michigan
23. Minnesota
24. Mississippi
25. Missouri
26. Montana
27. Nebraska
28. Nevada
29. New Hampshire
30. New Jersey
31. New Mexico
32. New York
33. North Carolina
34. North Dakota
35. Ohio
36. Oklahoma
37. Oregon
38. Pennsylvania
39. Rhode Island
40. South Carolina
41. South Dakota
42. Tennessee
43. Texas
44. Utah
45. Vermont
46. Virginia
47. Washington
48. West Virginia
49. Wisconsin
50. Wyoming