Jenny Lewis' New Video Is Exactly What Feminism in Music Should Look Like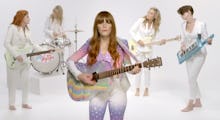 Any woman who was sorting through puberty in the late '90s and early aughts knows that Jenny Lewis might be the messiah. She belongs to a magical, yet small group of female musicians — namely Karen O, Gwen Stefani and Alison Mosshart — who got their start as indie darlings fronting male bands and then catapuled to pop star status without compromising their feminity or creativity at all. Now she's back with a video that might just show the way for feminism in the new age of music.
We live in the age of the empowered female pop star — of a hyper-sexualized, feminist-tract writing Beyoncé or roaring super-heroine Katy Perry. But yesterday when Lewis released the video for the first single "Just One Of The Guys" off her first solo album in six years, The Voyager (out July 29th), it immediately caught fire online. The reason is clear: This is the kind of feminism we aren't seeing enough of. Lewis's own take on pop feminism actually speaks to a feeling that likely resonates with many modern women — she subtly illuminates the difficulty in balancing traditional female roles with the new landscape of gender identity.
The video dramatizes the struggle hilariously, juxtaposing lyrics like "When I look at myself all I can see / I'm just another lady without a baby" with footage of Lewis, Anne Hathaway, Kristen Stewart and Brie Larson struggling their way through drag performances. (Lewis sports a rainbow suit masterpiece straight from a desert fever dream.)
Just because a girl can hang, doesn't mean she's not a girl anymore, and doesn't sometimes want girl stuff. Where Beyoncé, Miley, Katy, Rihanna and their compatriots are promoting an equally valid but forceful "free to do what I want to" kind of feminism, Lewis is speaking to a more moderate, realistic version of everyday feminism where women are trying to find a balance between the old and the new. Both versions are valid, but Lewis is doing the leg work to prove that more than one kind of feminism can succeed in the image-obsessed, sex-crazed world of music.
It's a tonal shift from a lot of music that has an overt feminist intention. The fun the women had making the video is palpable. Lewis told GQ, "I haven't laughed that hard since What About Bob? came out on laser disk." Together, they made a video that conveyed the sensibility of the song — the joint hyper-awareness of what it means to be woman, and the necessity to make light of that same awareness.
Image Credit: YouTube
Each of these powerful women goes full slap-stick on their variations on the worst kind of men you can imagine, dramatizing the difficulty of pulling it off while conveying complete control and wild care-freedom. Lewis articulates with stunning ease and clarity that a female artist doesn't have to be a hyper-sexualized diva or a firework in order to be a feminist. The sentiment in "Just One Of The Guys," both lyrically and on the screen, is honest without being too sentimental or overdone — and that's exactly what feminism in music should look like.