A Teacher's Beautiful Note to Her Students Reminds Us What Our Education System Tends to Forget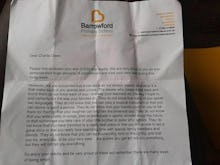 "There are many ways of being smart." That's what one teacher in the U.K. told her students in the note she sent to their homes with the results of their Key Stage 2 exams. The test, administered to 11-year-olds, is similar to the standardized exams given to American students.
Image Credit: Reddit
Rachel Tomlinson, the head teacher at Barrowford Primary School, located near Leeds in northern England, emphasized that her young students have skills that go beyond what a test can measure. "The people who create these tests and score them do not know each of you. … They do not know that your friends count on you to be for them or that your laughter can brighten the dreariest day," she wrote.  
The letter, discovered by radio programs and media outlets on Tuesday, borrows from a blog post by American educator Kimberly Hurd. It quickly went viral, trending on Twitter and even making the front page of reddit. Tomlinson's assistant, Sarah Metcalfe, told the Guardian the school was "overwhelmed" by the public's response to the letter.
The exams have long been a source of debate. They're the assessment portion of the National Curriculum, which standardizes the lessons taught in public schools. Introduced in 1988, the program was intended to make judging the performance of schools easier. The National Curriculum is similar to the Common Core in the U.S.
The National Curriculum has been criticized by teachers who say it "[narrows] the curriculum to the detriment of a more rounded education." Attempts at changing it have also come under fire; after widespread changes were introduced, many teachers were unhappy because the timetable for implementing the changes was too short and overly messy.
The National Curriculum is quite controversial, which explains the overwhelming public response to Tomlinson's letter.
Most of which, unsurprisingly, was positive:
The takeaway: Tomlinson's note is the kind of gesture that can make an enormous difference in a child's life. Any student would be lucky to have such a teacher. It should also serve as a source of inspiration for educators everywhere who want to support their students in ways that go beyond the classroom.
Regardless of what one thinks of standardized education, whether in America or abroad, teachers, parents and the education system itself should enforce the notion that students are more than their test scores.