This Hipster's Ridiculous Music Video Is Everything That's Wrong With Gentrification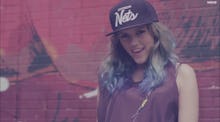 It's been happening for a while now. Brooklyn — once a beautiful, messy mix of cultures and communities shaped through a long history of migrations — is being shrink-wrapped once again into a neat bite-sized stereotype. If you saw Catey Shaw's popular new anthem "Brooklyn Girls," you'd know the new Brooklyn. Apparently, it is no longer the epic and incomprehensible mass that stretches from Sheepshead Bay up to the Pulaski Bridge. It is the L train, and any place where young white people can dress like they're in a circus and not be mocked openly on the street.
The song is a lame take on Katy Perry's "California Girls," but swap out the playful Candy Land fantasy video for a short-sighted manipulation of a very real reality. Shaw, who will host a release party for the song tonight in Williamsburg, packed hipster stereotypes into every pixel of this video. You've got your wannabe starlets wearing Nets' caps and sporting poems tattooed on their ribs; you've got your bearded men with septum piercings, who don't look complete unless they've got the artisan cold brew in hand. You've got your spontaneous backyard parties with the sloppily strung up Christmas lights and highly Instagramable graffiti backdrops covering every surface.
The video's Brooklyn conveniently leaves out an incredible 90-square miles filled with people who have lived in Brooklyn for generations and raised children here. They're not "Brooklyn" because they don't think it's cool when kids throw their sneakers up on telephone wires (or "combat boots in the summer," as Shaw sings) or have teal hair. But it doesn't matter because "Brooklyn girls, when they walk in they rule the world." Sounds like a pretty good (if incredibly vague) summation of gentrification. 
Fittingly, Catey Shaw isn't even a Brooklyn native. She grew up in Virginia Beach and only moved to NYC in 2010 to attend the School of Visual Arts. She really has no idea what is involved with being a Brooklyn girl — the stressed and segregated public school system or the constant wars of attrition with landlords to contest rent hikes. Any piece of art that claims to speak for all Brooklyn must include at least an inkling of an understanding of this. The song should really be called "Bushwick Girls" or "Beachfront Property to Brooklyn Transplants."
But some of the real Brooklyn does seep in a little more than a minute into the film. It shows a man sitting on what looks to be a delivery bike, scrolling through his phone. It's open to interpretation, but anyone who has visited Bushwick or Williamsburg has seen this scene. The man is probably trying to deliver a Bento box to some stoned kid who's chilling up in his Bogart Street loft. It's a snapshot of the awkward reality of the increasing economic stratification of Brooklyn, and here it appears as if it were just one more endearing, kitschy aspect of the neighborhood.
Fifteen years ago, Shaw could not have made a video like this. The most insidious aspect of gentrification is not that white kids are moving in, but that they're systematically dismantling local cultures and covering them over with layers of spray paint and forests of reclaimed wood. She's new here so we'll give her the benefit of the doubt. But someone should probably tell Catey Shaw that Brooklyn is not just Williamsburg and Bushwick. It's a whole system of traditions and families, now being moved to the fringes.