This German Soccer Star Just Set an Example All Celebrities Should Follow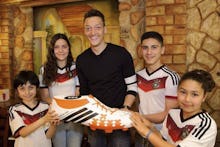 The news: Mesut Özil, the midfielder for Germany's World Cup-winning team, just set an example that all stars need to see.
After Germany won the final, each player received a bonus of more than $400,000. (Spain, for instance, had proposed a $980,000 winning bonus, to great outcry.) Instead of keeping his portion, however, Özil donated it all to support the surgeries of sick Brazilian children.
Image Credit: Facebook
Prior to the World Cup he gave money to support 11 children, but he just upped the number to 23 to mark the number of players on Germany's team. Though there were reports that Özil had also donated his winnings to the children of Gaza, his representative later said this wasn't true.
His initiative is in partnership with Big Shoe, a German charity that uses FIFA as a platform to aid sick children. "This is my personal thank-you for the hospitality of the people of Brazil," he wrote on his Facebook page.
Image Credit: Getty
The German team has been doing things like this since before the World Cup began. Rather than use a Brazilian hotel as their base, the team elected to build their own hotel and training grounds in Santo André, outside of São Paulo, which the team says created a number of permanent skilled jobs in the community. The resort was conceived with sustainability in mind, and was built using eco-friendly and locally sourced materials.
They're also paying to renovate the region's football facilities, while a football academy and an expansion of the local orphanage have also been discussed. The team has also promised to put the training complex to good use after they leave; one plan includes using it as a golf course.
Image Credit: T Online
The takeaway: Özil's generosity would be impressive under any circumstances, but the enormous stage he's on magnifies it even more.
Big Shoe, for which Özil is an ambassador, has been working with the World Cup since 2006, with no plans to stop. Players of the 2018 World Cup, keep this in mind: Your chance is coming to shine just like Mesut Özil.