Everything We Know About the Malaysian Airlines Flight Downed in Ukraine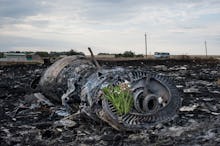 Editor's note: This is a developing story. We will publish more updates as they become available. Follow @World_Mic on Twitter for the latest updates.
Malaysia Airlines' European head told Reuters that the Amsterdam Airport CEO says 154 Dutch, 27 Australians, 23 Malaysians, 11 Indonesians, six Britons, four Germans, four Belgians, three Phillippinos and one Canadian died in the crash.
The video below allegedly shows smoke rising from the crash site near Donetsk.
Another video purports to show debris falling from the sky:
Where did this happen? The map below, courtesy of Reuters, shows the flight's last known position over Donetsk. The Associated Press notes that the region has seen "severe fighting" between Ukrainian forces and pro-Russia separatist rebels in recent days.
Sources within Ukraine tell The Wire that Ukrainian television reporters are stressing that this was a plane "crash," rather than a plane which was shot down. Other airlines aren't taking that chance: Lufthansa, Air France,  Russian airline Transaero, and Turkish Airlines are all avoiding Ukrainian airspace. 
Wait, so it was a missile ? U.S. and Ukrainian intelligence and regulatory officials are certain that the crash was no accident. The head of the Ukrainian airspace regulatory body told Reuters that Flight MH17 was "flying normally without any problems" until it disappeared from radar.
American intelligence agencies have confirmed that the Malaysian Airlines plane was shot down by a surface-to-air missile, a U.S. official told the Washington Post.
The official, who was not authorized to speak on the record about an early intelligence assessment, said government analysts are scrambling to determine who fired the missile. "This is a contested area," the official said. "It's going to take time to get some information on the intentions of whomever was involved."
Vice President Joe Biden says the downing of the Malaysia Airlines jet "not an accident ... [it was] blown out of the sky"
Though it's clear a missile brought down the plane, U.S. intelligence officials could not identify the origins of the missile.
This is outrageous! Who's responsible? There are two prevailing theories right now: that the plane was brought down by pro-Russian separatists in the eastern part of Ukraine, and that the aircraft was accidentally downed by the Ukrainian government.
When Mashable called Alexander Borodai, self-declared prime minister of Donetsk People's Republic, to ask if the group was responsible for shooting down the plane, he responded: "Listen, we don't have these weapons [to down the 777]."
"We have just shot down a plane," says one man on the tape, identified as Igor Bezler, one of the leaders in the pro-Russian separatist movement in eastern Ukraine, at about 4:40 p.m. local time. "It was 100 percent a passenger aircraft," another man, identified as "Major," responds later. "There are lots of corpses of women and children," another militant says. "They say it's written Malaysia Airlines on the plane. What was it doing on Ukraine's territory?""That means they were carrying spies," says another voice, identified as that of Nikolay Kozitsin. "They shouldn't be [expletive] flying. There is a war going on."
The missile may have been fired from within the contested Ukrainian region, but a U.S. intelligence official told Fox News the possibility a missile was fired from Russian territory could not be ruled out. Ukrainian officials said that a seperate military transport plane was shot down by a missile fired from Russian territory earlier this week. 
The second theory, well, isn't really a theory at all. According to Reuters, "leaders of the rebel Donetsk People's Republic denied any involvement and said a Ukrainian air force jet had brought down the intercontinental flight". This was claims has been partly buttressed by Russia. In televised comments, Russian President Vladimir Putin put the blame for the crash squarely on Ukraine.
According to the Washington Post, Putin told advisers that "the state over whose territory this happened bears responsibility for this terrible tragedy. This tragedy would not have happened if there was peace in this land."
Again, given that the second theory has been floated by pro-Russian seperatists and perpetuated by pro-Russian media outlets, it's probably worth discarding.
How are world leaders responding?  In televised remarks, Malaysian Prime Minister Najib Razak says the downed aircraft did not make a distress call, and that if it was shot down, the perpetrators "must be brought to justice."
The presidential press service told Interfax that Ukrainian armed forces were "not involved" in the downing of the plane. Ukrainian President Petro Poroshenko said that the Ukrainian military "did not take action against any airborne targets," declaring the crash a "terrorist act." Ukrainian Prime Minister Arseniy Yatsenyuk told Reuters that he has ordered an investigation into the Malaysian "airplane catastrophe."
Ukrainian separatist leader Aleksander Borodai has blamed the downing of a Malaysian passenger airliner in eastern Ukraine on the country's government forces. "Apparently, it's a passenger airliner indeed, truly shot down by the Ukrainian Air Force," Borodai told Russia's state-run Rossiya 24 TV broadcaster. Journalist Julia Ioffe notes that an hour before the plane went down, separatists were bragging about downing a Ukrainian military aricraft.
President Obama told reporters on Friday that at least one American was killed when Flight MH17 was shot down over Ukraine, and that deaths of all on board are "an outrage of unspeakable proportions."
"This was a global tragedy," Obama said, echoing a call from U.S. officials for a "credible" international investigation into the incident. Obama said that the U.S. stands ready to provide "any assistance necessary," including FBI and NTSB personnel already en route to the crash site.
The truth, Obama says, will inevitably involve Russia:
Now, here is what we know so far. Evidence indicates that the plane was shot down by a surface-to-air missile that was launched from an area that is controlled by Russian-backed separatists inside of Ukraine. We also know that this is not the first time a plane has been shot down in eastern Ukraine. Over the last several weeks Russian- backed separatists have shot down a Ukrainian transport plane and a Ukrainian helicopter, and they claimed responsibility for shooting down a Ukrainian fighter jet.Moreover, we know that these separatists have received a steady flow of support from Russia.
Shouldn't the UN be involved? Funny you should ask. The U.S. on Friday argued before the United Nations Security Council that pro-Russia separatists in eastern Ukraine felled a Malaysia Arlines Flight MH17, asserting there was "credible evidence" that a Russian-built anti-aircraft system in a rebel-held location had fired the missle that destroyed it.
The accusations, made by UN Amassador Samantha Power, were the first public remarks by a top American official pointing fingers directly at the separatists and their Russian associates for the destruction of the Malaysian airliner.
What else should I know? This disaster is a tragedy in every sense of the word, but it gets worse: Australian newspapers have reported that several of the passengers on board were AIDS researchers en route to AIDS 2014, the leading global meeting that is expected to attract as many as 14,000 attendees to Melbourne, Australia, this week.
"To lose people so heavily engaged in efforts to fight HIV is an incalculable loss in every sense," Shawn Jain of the Whitman-Walker Clinic in Washington, D.C. told Vox. "The International AIDS Conference is already a time of reflection for those we have lost to HIV/AIDS. Losing colleagues engaged in the fight against HIV who were in transit to the event will only make it more somber. "
Irene and George Burrows from Biloela, south of Rockhampton, are still mourning their son Rodney and his wife Mary who were on flight MH370, which disappeared without trace over the southern Indian Ocean in March.But tragedy has gripped their family a second time. It has been revealed Irene and George's daughter Kaylene Mann lost her step-daughter Marie Rizk and her husband Albert in the MH17 disaster.
 Good God. Yes.
Editors Note: Mar. 5, 2015 
An earlier version of this article cited Reuters and the Associated Press reporting, but did not include quotations around the cited passage. The story has been updated to fully attribute the Reuters' and Associated Press' language.