11 Photos of Breakfast Around the World Show What Americans Should Really Be Eating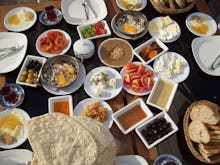 Think about what you ate for breakfast this morning.
Was it fluffy pancakes, buttery waffles, an egg, bacon and cheese sandwich, a bowl of cereal or just a to-go cup of coffee?
Despite the often repeated, motherly mantra about how breakfast is the most important meal of the day (it echoes in our ears), many Americans either grab something on-the-go for convenience, or skip it altogether due to lack of appetite or time.
According to a Packaged Facts report, total retail sales of packaged breakfast baked goods in the U.S. totaled about $4.9 billion for 2012. In 2011, nearly 31 million Americans, about 10% of the U.S. population, do not eat breakfast, according to a survey by the NPD Group.
Depending on where you are, breakfast traditions around the world range from miso soup to appam to sweet or savory porridge, highlighting the country's food culture and attitude toward "the most important meal of the day."
We took a look at some of the healthiest breakfast traditions from around the world: 
1. Japan
Traditional Japanese breakfasts are nutritious, healthy and often consist of a bowl of miso soup, a bowl of rice or rice porridge, fish, pickled veggies, tofu and of course, tea. 
2. Russia
Kasha porridge is made from whole wheat grains, often buckwheat, and  is a popular breakfast in Russia. This is a warm, comforting meal for a cold day. It is usually topped with butter, salt, sugar, spices, dried fruits or jam.
3. China
In China and many parts of East Asia, congee, a traditional rice porridge, is a popular dish to start the day with. It can include a variety of additional savory ingredients, ranging from sugar and corn, to squid and peanuts. 
"Congee is usually the first non-milk food given to babies," said Meyer-Fong, an expert on Chinese cuisine. "It is also something eaten by the elderly (particularly in cases of dental trouble). It is comfort food, eaten when one is feeling under the weather, particularly with stomach trouble. In some contexts, it has a reputation as suitable for eating when one has a hangover."
4. Korea
A traditional breakfast in Korea often consists of foods that one would eat for lunch or dinner, as well.
It usually includes steamed rice, some sort of broth, a side dish of kimchi or pickles, some grilled fish and "as many side dishes as people have the imagination to give you," according to Laurel Kendall, the associate curator of Asian ethnographic collections at the American Museum of Natural History in Manhattan.
5. Malaysia
Nasi Lemak is a breakfast favorite in Malaysia. This delicious rice dish is cooked in coconut milk with turmeric and topped with savory ingredients like anchovies, roasted peanuts, egg and sambal, a traditional spicy sauce and served on a banana leaf. 
6. Egypt
In Egypt, Ful medames, a traditional stew filled with fava beans, chickpeas, lentils, olive oil, lemon juice and garlic, is usually eaten for breakfast and served with pickled veggies and arugala. 
7. India
A traditional breakfast in India usually depends on the region. In South India, breakfast usually consists of dosas (a sourdough crepe) stuffed with potatos, spices and vegetables or idlis (steamed rice cakes) with chutneys and dips.  
8. Colombia
In Bogotá, the capital of Colombia, changua is usually the traditional breakfast.The soup includes milk, scallions, cilantro and an egg. 
9. Switzerland
The traditional Swiss breakfast is actually becoming increasingly popular in different parts of the world. Muesli includes rolled oats, raisins, dried fruits, honey and yogurt. 
10. Brazil
With fruits aplenty in Brazil, breakfast usually includes strong coffee, pao frances (a traditional bread) and papayas. 
11. Turkey
Turkish breakfasts are famous for their wide variety of little dishes that include different types of cheese, butter, sliced tomatoes and cucumbers, bread, olives, honey, jam and boiled eggs encompassing all the essentials of a good, healthy meal: sweet, savory, soft and crunchy, raw and cooked.