The Bizarre Story of Why This Japanese Artist Was Jailed For Photographing Her Vagina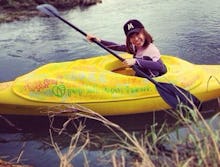 The news: Some artists specialize in balloon dogs, some in lillies ... and others in recreating their own vaginas out of plastic.
This is the particular jam of Megumi Igarashi, a Japanese artist who goes by Rokudenashiko ("Absurd Girl" to us Anglophones) and who has been arrested for distributing data online to help 3-D print her vagina. Having crowdfunded 1 million yen (about $9,850) to turn a selfie of her private parts into a kayak, she sent out the plans to her funders to help them 3-D print it too, which resulted in charges for indecency under the belief that she sold the data to some users.
Image credit: Rokudenashiko
According to authorities in Tokyo, Igarashi's art breaches Japanese obscenity laws. The supposedly violated section of Japanese penal code is as follows: 
A person who distributes, sells or displays in public an obscene document, drawing or other objects shall be punished by imprisonment with work for not more than two years, a fine of not more than 2,500,000 yen or a petty fine. The same shall apply to a person who possesses the same for the purpose of sale.
The artist argues that as she didn't sell the images for money and that scanned 3-D prints do not fall under the umbrella of "obscene." According to activist Minori Kitahara, authorities have also seized up to 20 of Igarashi's other pudic artworks.
It might seem hilarious, but according to Igarashi's lawyer, she may face a 2.5 million yen ($24,625) fine and/or two years in jail.
The background: Igarashi's artwork and the legal fireworks around it all stem from larger issues Igarashi finds within Japanese society. The vagina is, in Igarashi's view, a taboo subject, and responses to her work seem to confirm it. She has previously been banned from even using the word on TV.
"Penis … has been used in illustrations and signed as a part of pop culture," argued Igarashi in an online post, "But pussy has never been so cute. Pussy has been thought to be obscene because it'[s] been overly hidden although it is just a part of women's body." Igarashi has a point, considering the Huffington Post recently found five completely fine phallic toys available on the Japanese market. Even Japanese tradition tends to love a good phallus: Just take a look at these images of the Festival of the Steel Phallus, an annual event that dates back to the 17th century.
Some critics of Igarashi's treatment have also pointed out that Japan has been hesitant to ban animated or hand-drawn child pornography, along with real images. Yet Igarashi, whose art is designed to be playful and exploratory of a subject she felt uninformed of as a young Japanese girl, is getting the pushback.
Image credit: Rokudenashiko
The takeaway: Japanese sexual mores are frequently characterized by their eccentricities, but this is more than just a comic incident. Igarashi faces criminal persecution and censorship for attempting, through humor and lightness, to tackle a taboo she has found in her society. The result of this case will expose a lot about how Japan wants to perpetuate ideals of female sexuality.