The Country You Would Least Expect Wants to Go To Mars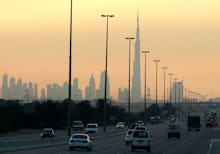 The United Arab Emirates wants to go to the Red Planet. This country — known for having the world's tallest building, a 6-D movie theater and an ATM that dispenses 10-gram 24K bars of solid gold instead of cash — plans to be the first Arab nation to send a probe to Mars by 2021.
The country's vice president and ruler of Dubai, Sheikh Mohammed bin Rashid al-Maktoum, said in a statement on Wednesday, "We chose the epic challenge of reaching Mars because epic challenges inspire us and motivate us."
Their enterprising spirit, though a bit ambitious, is another notch in their belt of accomplishments. It shows other nations (ahem, the U.S.) that far-fetched space goals are an imperative economic venture.
The background: The UAE has invested $5.4 billion into space technologies, but has yet to send someone into orbit. They have been "expanding activities of Al Yah Satellite Communications satellite data and TV broadcast company, mobile satellite communication company Thuraya Satellite Telecommunications and Earth mapping and observation system Dubai Sat," reports RT.
The Gulf state has long intended to get involved in the space race, aspiring to replicate successful space agencies like Europe's ESA or the United States' NASA programs. The unmanned mission to the Red Planet will concur with the country's 50th anniversary of their independence from Britain.
To mark the announcement, al-Maktoum released a simulation of what the Mars mission would look like.
The takeaway: The UAE is interested in diversifying its assets from just resources to include innovative technologies. The spacecraft mission to Mars will boost a resume that already boasts oil-rich land and over-the-top attractions, such as an indoor skiing mall.
The United States' NASA program, on the other hand, has an ever-dwindling federal budget that must rely on private funding to stay afloat. The U.S. still plans to have a Mars mission underway by the 2030s, but budget woes continue to threaten those operations. The agency is currently focusing on projects involving the International Space Station instead. So while the UAE funnels money into their space programs, the U.S. continues to channel money out of theirs.