Elaine Stritch's 12 Best Pieces of Advice for Creative People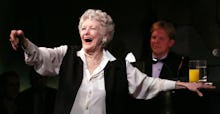 Elaine Stritch, female comedy icon and salty Broadway grand dame, died Thursday at the grand age of 89. Outspoken, lauded and often considered difficult by her co-workers, Stritch never stopped working even in her 80s, only moving out of New York in the last year or so of her life. She was a proud supporter of the city all through her life. "I think it's the wrong way around to say when you get older move to the country," she once said. "I think when you get older you move to New York. If you're a nice broad they'll look after you."
Stritch is perhaps best known to modern audiences as Jack's mom in 30 Rock. The documentary about her released this year, Elaine Stritch: Just Shoot Me, has found critical success. But to Broadway fans, she will forever be known as the woman who originated Joanne, the femme-fatale vamp in Stephen Sondheim's acclaimed musical Company. Here she made his penultimate number "Ladies Who Lunch," a song decrying upper-class, vacuous women while realizing she's one herself, a bitter anthem that will forever be the best friend of a cabaret performer.
Stritch's outspoken nature means she's a great source of life advice, especially for artists. Put down the Stanislavski, throw away your Mamet, and come join the acting class of Stritch at the university of life.
Here are 12 powerful pieces of advice from Stritch about living a creative, fulfilling life: 
1. On honesty
"You cannot tell an audience a lie. They know it before you do, before it's out of your mouth."
2. On natural highs
"I don't think there's any thrill in the world like doing work you're good at."
3. On experience versus academia
"These performers that go on about their technique and craft — oh, puleeze! How boring! I don't know what 'technique' means. But I do know what experience is."
4. On connecting
"Audiences are not strangers to me. They're the best friends I've got in my life."
5. On attraction
"Talent is seductive."
6. On the health benefits of art
"I have no intention of retiring. Even my blood sugar is better when I'm working."
7. On cowardice
"Fear is the base of what everybody does wrong in their lives."
8. On comedy
"I always say, 'If you can't give a reason for the banana peel being in the alley, then don't have the comic slide over it.' Do you understand what I mean? First explain how the banana peel got there quickly. And then there's a reason for all the comedy."
9. On settling
"And why not do something new every day of your life? Change! Change!"
10. On moving to New York
"I got off the train here [in New York] in 1943, and this town didn't scare me at all! I wasn't afraid of anybody; I just didn't know anybody. Fuck them! I got some comfortable shoes and walked to Greenwich Village and back to 91st Street every day for three years … It was more fun with Marlon Brando, if you know what I mean."
11. On the inspirational nature of age
"I have not had any of that surgical stuff. I am too curious to find out exactly how I progress every day of my life naturally. That is what fascinates me."
12. On the pursuit of perfection
"The terrifying thing in my life is that I am just an actress. And I have to keep pushing it and getting approval, approval, approval or I don't think I'm worth two cents. And I am starting to get over it, thank God. And I'm just sad because I don't have many years left and I wish I had a longer space of time to think that Elaine Stritch is okay."