Israel Has Launched a Ground Invasion of the Gaza Strip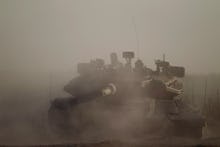 At 10:39 p.m. local time, the Israeli military announced it had begun a ground invasion of the Gaza Strip. The New York Times reports that the objective of the operation was to "establish reality in which Israeli residents can live in safety and security without continuous indiscriminate terror."
The military added that, "it would target tunnels that infilitrate its territory, after cease-fire talks failed to de-escalete the air war that has raged for 10 days," according to the Times. 
Image credit: Wikimedia Commons
Image credit: Getty
As highlighted by the Times, "Palestinians residents and journalists in Gaza witnessed heavy artillery fire from ground troops and navy ships. Israel continued their air assault, which included targeting a rehabilitation hospital and, earlier, killing four young children playing on a roof."
Hamas spokesperson Fawzi Barhoum told Al Jazeera that Israel's ground operation in Gaza amounts to "stupidity," and threatened that the Israeli army would pay a "high price."
Editor's Note: This story has been updated to remove language that was used without attribution to the New York Times. We apologize to our readers for this violation of our basic editorial standards. Mic has put in place new mechanisms, including plagiarism detection software, to ensure that this does not happen in the future.