What Happened When One U.S. State Accidently Decriminalized Prostitution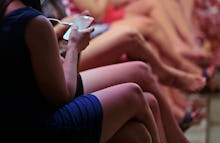 Everyone makes decisions with unintended consequences. Not everyone accidentally legalizes prostitution.
That honor belongs to Rhode Island, where legislation produced an inadvertent six-year social experiment during which prostitution was allowed as long as it happened indoors. (You can see one alleged brothel pictured above.) Researchers at the National Bureau of Economic Research dove into what happened, and the results were surprising.
"Decriminalization caused both forcible rape offenses and gonorrhea incidence to decline for the overall population," the study says. "Our synthetic control model finds 824 fewer reported rape offenses (31% decrease) and 1,035 fewer cases of female gonorrhea (39% decrease) from 2004 to 2009."
How it happened: In 1980, Rhode Island passed a bill that was meant to make prosecuting streetwalkers easier. The wording of the legislation, though, created a legal loophole in which exchanging money for consensual sex was OK, as long as it took place indoors.
Probably because no one was combing through bills to see if they would accidentally allow prostitution, the change went unnoticed. That is, until 2003, when a district court judge read into the law and ruled that prostitution was legal behind closed doors.
The result was — surprise! — an increase in prostitution, especially among spas that functioned as de facto brothels. It took Rhode Island until 2009 to close the loophole. "Prostitution, outdoors or indoors, is a bad thing," Gov. Donald Carcieri said at the time. "I think it's been a black eye, frankly, in our state, that we've allowed this to go, for whatever the reason is, for far too long."
The benefits: The researchers found less risk of rape and sexually transmitted disease during the period of legalization. You can see the sharp drop in rape in Rhode Island occur right after 2003, when the ruling came down, and start going up again after it was criminalized in 2009.
Image Credit: Vox
No other crimes, including murder, assault and robbery, experienced such a decline, according to Vox.
Currently, only a few counties in Nevada allow legal prostitution. There, it tends to be safer than anywhere else in the country, since the practice can be regulated and sex workers can routinely be tested for sexually transmitted infections.
Despite being illegal almost everywhere in the country, prostitution generates $14 billion a year in the U.S. That's a lot of black market money, and there are a lot of health and crime risks associated with it. As research like this shows, maybe Rhode Island would be better off reopening the loophole.