Meet the Obscure Band Behind One of the World's Most Popular Songs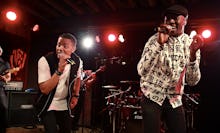 According to popular music app Shazam, people across the world have been trying to figure out who sings this song:
"Am I Wrong" was the most-Shazamed song worldwide for weeks (before abdicating the throne to another left-field hit, Magic!'s "Rude"). The single is holding strong at No. 3 on Shazam's official chart. That means that people across the whole world are hearing the song and falling in love without even knowing who wrote it.
Nico & Vinz are so new to America that most people don't even know what Nico Sereba and Vincent "Vinz" Dery look like. That's pretty rare for an artist with a Top 10 hit.
"People think that we're white," Dery told Rolling Stone.
Image Credit: Getty
Though the two met and formed Nico & Vinz in Oslo, Norway, they come from different backgrounds. Sereba's parents hail from Norway and the Ivory Coast, while Dery's are immigrants from Ghana. Both have taken great pains to stay true to their roots, shooting the video for "Am I Wrong" as a love letter to Africa and naming their debut album Black Star Elephant after Ghana's and the Ivory Coast's soccer teams. That song itself blurs the lines between Scandinavian and African music, a potent melting pot that's brought them straight from Norway to the American Billboard Top 10 — a feat previously accomplished only by a-ha with "Take On Me" in 1985 and Ylvis with "The Fox" in 2013. Right now, Nico & Vinz are at #4.
It's been a long road for Nico & Vinz, though. Originally called Envy, the group formed in 2010 and released one awesomely titled album — The Magic Soup and the Bittersweet Faces — and one mix tape to moderate success in their home country.
Everything changed in April 2013, when they released "Am I Wrong" and suddenly started receiving international attention. They changed their name to Nico & Vinz in January in conjunction with signing to Warner Bros. Records. Since then, things have been moving pretty quickly. 
After debuting the single at Oslo's annual Nobel Peace Prize Concert, the popularity of "Am I Wrong" was apparent almost immediately. It earned the No. 1 most-added slot at American Top 40 radio the week of its release — one of the reasons its Shazam score is so high (it was introduced to DJs' playlists more that week than any other song). 
The duo's profile should only continue to rise in the coming months. They booked a performance on The Tonight Show Starring Jimmy Fallon for July 21 and recently snagged the coveted opening slot for select dates on Bruno Mars' Moonshine Jungle World Tour, which continues through October. They made their television debut on Jimmy Kimmel Live earlier this year. 
While it might be too soon to call 2014 a Norwegian renaissance (although fellow countryman and Robyn collaborator Röyksopp is making some moves of his own), "Am I Wrong" is a strong reintroduction to the country that brought us some of the 1980s' most distinguished music. Ylvis gave us all a good laugh last year, but it's thanks to Nico & Vinz that Norwegian pop may end up on top of the world, or at least on top of the charts, after all. Soon enough, when people hear a Nick & Vinz song, they'll know who they're hearing.