The Haunting Final Facebook Post of One of the Passengers on the Downed Malaysia Airlines Flight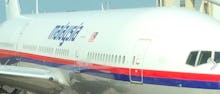 A Dutch man who appears to have been a passenger on the doomed Malaysia Airlines flight on Thursday posted a photo of the plane with an eerie message before boarding the ill-fated Boeing 777.
As the AFP reports, the post came as the man was boarding. Translated from Dutch to English, the caption reads: "In case it goes missing, here is what it looks like."
As Reuters points out, the loss of MH17 is the second disaster for Malaysia Airlines this year. In March, MH370 mysterious disappeared with 239 passengers on its way from Kuala Lumpur to Beijing.
The downing of Malaysian Airlines Flight MH-17 also still remains a mystery. 
More: The Two Theories Behind How Malaysian Airlines Flight MH17 Went Down
The dead total 298 people, a number scaled up to account for three infants not on the original flight records. 
At least 154 people on the flight were Dutch. In Amsterdam, the Washington Post reported an audible gasp went up at the news conference Thursday night at Schiphol airport when it was announced that so many of the dead were from the Netherlands.
The Independent reports there were 27 Australians on board, 23 Malaysians, including all 15 crew, and 11 Indonesians. Six passengers from the United Kingdom, four from Germany, four Belgians, three from the Philippines and one Canadian. A large group of the passengers  were heading to Melbourne for a major AIDS conference, reports say. 
Editor's Note: This story has been updated to remove language that was used without attribution to the Daily Caller and Standard-Examiner. We apologize to our readers for this violation of our basic editorial standards. Mic has put in place new mechanisms, including plagiarism detection software, to ensure that this does not happen in the future.