19 Examples Showing How the Internet Has United Behind This Brave Rape Victim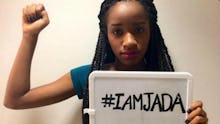 Rape, a painful and dehumanizing experience, changes the lives of it's survivors. In some cases, mocking and shaming procedes, in an unbelievable act of cruelty.
Sixteen-year-old Jada endured just that last week in what seemed like an all-time social media low, when the hashtag #jadapose began trending on Twitter and then surfaced on Instagram. What many trolls and bullies were trying to mimic with the memes was deplorable: Unconscious, naked photos of Jada lying on the floor in what appeared to be a case of sexual assault and rape. The memes duplicated the 'pose' from horrific photos of Jada, trivializing her assault experience and revealing rape culture at its worst.
Thankfully, after many other social media observers saw the disgusting attempts to make one woman's rape a trending punchline, they united to fight back, led by the very person whose ridicule started the conversation. That person was Jada.
In multiple interviews, Jada described how she realized what happened when her friend sent her a screenshot of the photos. After seeing the images online, she told her mother. This young woman witnessed how countless people who didn't know her made humor out her experience with rape and sexual violence. 
Image Credit: Twitter
Jada decided to take matters in her own hands after the alleged rapist, Innel Yahia, and his friends started mocking her for speaking out about rape. The alleged rapist's response was retweeted and favorited more than 400 times: 
"There's no point in hiding," Jada told Houston's KHOU news. "Everybody has already seen my face and my body, but that's not what I am and who I am." 
She told MSNBC's Ronan Farrow her horrifying story: Jada was given a cup of punch at a house party last month where she went with a friend who knew the host. She later realized it was spiked. "After that, I went home and realized that my underwear was on backwards, and I called and asked 'what happened,' and I had a bruise under my eye," Jada said. "I woke up without any memory of what happened."
Understandably, she was "very angry" upon  seeing the photos circulating around social media. But Jada ultimately wanted to counter her bullies by telling her own story. Before starting the interview with Farrow, she held a placard with the #IAmJada hashtag and posed with a clinched fist in a signal of strength. To draw more awareness of Jada's story and bravery, Farrow asked social media users to take a supportive stand and post tweets with the hashtag #IAmJada.
And, as it should have, the behavior of the trolls outraged people across the country. 
Social media has often been a bane for victims of assault and cyber bullying because of graphic public shaming. But instead of turning away and ignoring the problematic memification of rape culture, thousands rallied online in solidarity with Jada, supporting her efforts to reclaim her narrative and condemn rape in all its forms.
1.
2.
3.
4.
5.
6.
7.
8.
9.
10.
11.
12.
13.
14.
15.
16.
17.
18.
19.