One of the Most Brilliant AIDS Researchers in the World Died on Malaysia Airlines Flight MH17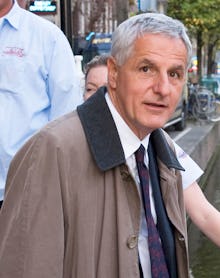 As if this story needed any more tragedy.
Numerous AIDS researchers, health workers and activists were onboard the Malaysia Airlines flight that was shot down over Ukraine. They were on their way to the 20th International AIDS Conference in Melbourne, Australia, which starts on Sunday.
A visionary: Among those passengers was Joep Lange, who had worked on HIV research since 1983. He was a professor of medicine at the University of Amsterdam, where he also served as the head of the global health department. His partner Jacqueline was also killed in the crash.
Lange was a driving force behind numerous antiretroviral therapy trials, including important work with mother-to-child transmission of HIV. He advocated for making medications available in the developing world, and was president of the International AIDS Society from 2002 to 2004.
The reaction in Lange's field was swift. One American HIV researcher told Vox that Lange was a visionary amongst HIV researchers ... He was acutely aware of the multiple dimensions of HIV spanning science to society and had a heart of gold. This is a huge loss for the field."
Others took to Twitter with their condolences.
More figures: Glenn Thomas, a spokesman for the World Health Organization and a former journalist, was also among the victims. "His twin sister says he died doing what he loved," a WHO statement said.
Pim de Kuijer, a Dutch citizen and lobbyist for Stop AIDS Now!, was memorialized in the Guardian by friend Nabeelah Shabbir. You can read articles he wrote for Shabbir's magazine here.
Martine de Schutter, another Stop AIDS Now! member, was also believed to have been on the plane. "It is incomprehensible that they're no longer here," Stop AIDS Now! Executive Director Louise van Deth told the Washington Post. "It is a heavy blow that people who have been so active for so long in the fight against AIDS have been wiped out."
How many? While original reports put the number of lost conference delegates on Flight MH17 at 108, nearly a third of the plane's passengers, conference organizers have only confirmed seven deaths.
Seven is still too many, of course, and the loss of life is staggering no matter where passengers were going. The conference will continue, organizers said, "in recognition of our colleagues' dedication to the fight against HIV/AIDS." Family and friends of other victims will continue to mourn in their own ways.