Scientists Have Discovered Why Marijuana Makes You Paranoid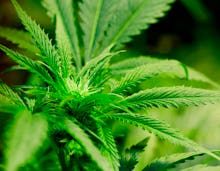 The news: Your weed-induced paranoia is a real thing.
A new study has found that weed can make actually you paranoid, confirming the findings of investigations dating back to the 1930s, as well as anyone who has ever smoked weed and then ridden the subway. However, researchers found that it's not the weed that directly causes panic, but rather that it makes you more vulnerable to the onset of panic.
The study: Oxford University researchers administered intravenous injections to 121 participants who had all recently experienced paranoia. Two thirds received a dose of THC and the remaining third received a placebo. The participants were then placed in a real-life situation — the hospital cafeteria — and a calm situation depicted in a virtual reality headset. Half of the real THC group felt elevated levels of anxiety and panic in both settings. In the placebo group, only a third felt such effects.
Being high makes people more prone to becoming paranoid, but as the lead researcher puts it, "More importantly, it shines a light on the way our mind encourages paranoia. Paranoia is likely to occur when we are worried, think negatively about ourselves, and experience unsettling changes in our perceptions."
When one is high, the changes in perception can lead to a state of disorientation, opening the way to panic and paranoid thoughts. If one feels self-conscious or anxious prior to getting high, then the high will make paranoia more likely to occur.
Clarifying the lore. It's common knowledge that the high from cannabis can generate some level of paranoia in some people, and consuming too much at once can lead to a panic episode. This study demonstrates that those feelings are a direct reaction to the unexpected nature of altered perception, and that a person manifests their own paranoia due to a state of disorientation. The report says that, in a normal state, "Many people have a few paranoid ideas, and a few people have many." Based on your existing vulnerability to paranoia, being high can exacerbate your tendency to feeling paranoid.
A number of studies on cannabis over the past few decades cite paranoia as a side effect, including studies of its psychiatric effects, its dangers, and its medical uses, but none of them have discovered how much our own state of mind plays a part. Now we can confirm that if you smoke weed and start getting paranoid, it may well be your own state of mind.