This Courageous Woman Is Changing the Way the Fashion Industry Defines 'Model'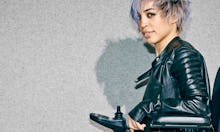 Jillian Mercado, a fashion blogger by trade, is gracing the ads of two high-fashion brands this season. Mercado's edgy personal style is eye-catching, but her rise is surprising consumers and fashionistas alike for a more inspirational reason — the 23-year-old model rocks her distinctive look from a wheelchair and just may be changing the fashion industry at the same time.
Image Credit: Diesel
Mercado was diagnosed with spastic muscular dystrophy and has been using a wheelchair since age 12. Born and raised in New York City, Mercado graduated from the Fashion Institute of Technology and has quickly become an influential fashion figure in New York City, an executive editorial director for We the Urban magazine and manages her own highly followed blog. 
When former Lady Gaga stylist Nicola Formichetti posted on his Facebook that he was looking for culturally representative models for his Diesel campaign, Mercado said she and her friends joined as a "joke." That joke turned into a once-in-a-lifetime opportunity for Mercado as the casting agency requested more photos and eventually booked her for the campaign.
"You all have no idea how speechless I am right now," Mercado wrote on her blog when she saw her Deisel campaign. "Thank you for giving me a chance of a lifetime and believing in me. This is beyond everything." 
Just a few months after those images were released and widely circulated in fashion magazines like Vogue, Mercado landed her second gig. This time it involved sporting threads for Nordstrom's summer catalog.
Image Credit: Nordstrom
"With Nordstrom, they saw me in an interview on the TODAY Show and emailed me if I wanted to be part of their anniversary catalog," Mercado told Mic. "The response from everybody has been incredibly amazing and I am such a lucky girl to have so much positive energy from everyone."
Mercado brings a breath of fresh air to an industry in dire need of campaigns that reflect the diversity of its consumers.
"I believe that there needs to be more diversity in the way models are represented in fashion," she said. "Because at the end of the day they are selling clothes, and if you as the consumer can't see yourself in those clothes, something is wrong."
Showcasing models like Mercado is a good first step for fashion, which is resistant to deviating from the status quo. Paralympian, actress, model and double-amputee Aimee Mullins turned heads when she headlined Alexander McQueen's runway show on wooden legs in 1999. More recently, a JCPenney store in New York City was lauded for its display of "real size mannequins" modeled after people of diverse body sizes and shapes, including a plus-size mom and also an Army veteran who lost part of his legs.
Hopefully, we'll be seeing more of these campaigns in the future. We're almost certainly going to be seeing more of Mercado, who said she recently signed to a modeling agency and has some more things "in the works." Follow her journey on her Instagram.
Image Credit: Associated Press