There's Something Remarkable About the New York Times' Friday Front Page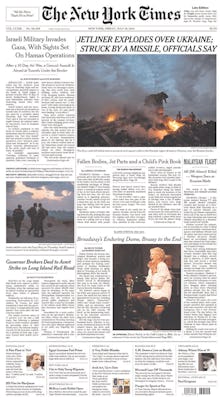 One thing you can usually count on: The New York Times will feature some horrific and troubling news on its front page.
It's unusual, however, that said news is written by female journalists reporting from war zones. But that's what happened Friday:
Image Credit: Newseum
The Huffington Post reports that Times' Jerusalem bureau chief Jodi Rudoren and Beirut bureau chief Anne Barnard covered Israel's ground invasion of Gaza, while foreign correspondent Sabrina Tavernise reported from Ukraine on the Malaysian Airlines Flight 17 crash.
All told, female writers outnumbered male writers above the fold – a rare and refreshing occurrence in a male-dominated industry.
Background: According to a recent study from the Women's Media Center, The New York Times has the industry's largest gender gap when it comes to bylines, with 69% going to male writers. This figure is far from unique: Of the nation's top 10 most widely circulated newspapers, 63% of bylines go to men — nearly two to each one for women.
Image Credit: Women's Media Center
Friday's front page is even more remarkable considering the topics it covered. The study indicates that women typically get assigned lifestyle and entertainment stories, but are vastly underrepresented when it comes to U.S. politics, crime and – importantly – world politics.
That's why this occurrence is notable. If there's any consolation to be taken from a day when an oppressed territory was invaded and hundreds of people lost their lives, it may be this small but important victory in the ongoing fight for gender equality in media.
The New York Times has never had a sterling record when it comes to publishing female journalists. Perhaps Friday represents a step toward rectification.