President Obama Just Took Major Action on Assault Weapons — But Not For the Reason You'd Expect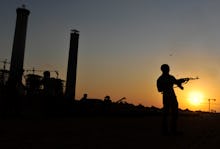 It's going to be harder for Americans to buy the world's most popular gun — straight from the manufacturer, at least.
President Obama announced a new round of sanctions on Russia this past week, and one of the companies listed owns Kalashnikov Concern. You might know Kalashnikov as the makers of the AK-47, by far the most famous gun on the planet.
There are more than 100 million AK-47s or AK-47 knockoffs owned around the world, according to the Washington Post. If you're watching an action movie, there's about a 90% chance the guns the foreign bad guys are wielding are AK-47s.
But because of these sanctions, Americans now aren't allowed to buy the weapon from the Russian manufacturer.
While earlier U.S. sanctions had been leveled specifically at Vladimir Putin's inner ring, this new batch is designed to affect the Russian economy in a more general fashion.
Rostec, the Russian government-owned company that runs Kalashnikov, fired back at the Obama administration for the sanction listing, according to Mother Jones.
"For Kalashnikov ... the US is an important market for selling arms," a spokesman told ITAR-TASS, a Russian government news agency. "It should be noted that the Kalashnikov products are very popular in the U.S. ... This means that the sanctions the U.S. Administration has imposed on Kalashnikov contravene the interests of U.S. consumers."
Russian Weapon Company might be even madder — that group just agreed earlier this year to import 200,000 Kalashnikov guns into the U.S. annually. That's probably not going to happen anytime soon.
It's not a ban. The far right quickly grabbed hold of the sanctions announcement and twisted it into a countrywide ban on AK-47s. Has our entire conflict with Russia has been a false flag so that Emperor Obama could ban one specific make of gun?!
No. As the U.S. Treasury explains, you are free to keep your AK-47s, sell them to others or buy them as long as its not from the Russian company itself. If you're really aching for one — and it has to be the right one, since the common fully automatic version is already illegal here — many of those 100 million (maybe even half) are knockoffs made in Eastern Europe and elsewhere.
While there's no telling with them, this is likely why you won't see the NRA rushing to make a big deal out of this move. No one wants to be the American lobbying group standing up for Russian interests right now.
This story has been updated.