Here's What the Gaza Invasion Would Look Like if It Took Place in Your City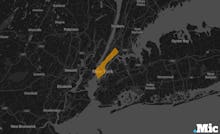 On Thursday, Israel sent thousands of troops backed by tanks into Gaza, a small sliver of land roughly the size of Philadelphia and home to 1.8 million people.
There's one important thing to understand about Gaza: its tiny size and high population make it a densely populated area. That means a rocket fired into a Gazan neighborhood is likely to cause scores of civilian casualties. At least 296 Gazans have already been killed in the recent conflict, a number likely to rise further.
But this reality can feel distant and abstract.
What would it look like if 1.8 million people in major U.S. cities were held under siege?
Each map below uses the shape of Gaza to show how much space is taken up by 1.8 million people in major U.S cities.
1.8 million New Yorkers
1.8 million Bostonians
1.8 million Houstonians
1.8 million Chicagoans
1.8 million Miamians
1.8 million Washingtonians
1.8 million Philadelphians
1.8 million San Franciscans
1.8 million Angelenos
Data sources:
Gaza population and density data can be found here.
U.S. population density data from the U.S. Census.
Maps created using MapBox.