Chaotic Photos Show What's Happening on the Streets of Paris Right Now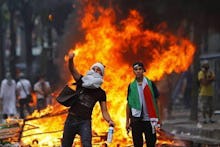 Pro-Palestinian protests are banned in Paris, France, but don't tell the crowd of thousands that gathered on Saturday to flout the rule.
Despite the recently imposed government ban, roughly 5,000 people gathered in the streets to march in support of Palestine and Gaza as the ongoing conflict escalates. 
The demonstrations quickly turned ugly however when Paris polices forces clashed with the protesters and projectiles flew through the air while fires raged. 
"The police attacked us," Amelle El Amraoui, 28, told Al Jazeera from the streets of the protest. At least 35 people were arrested, according to the march's organizers, and many other were injured when the police charged into the crowds with teargas and tasers. 
Paris police say the ban was recently instituted to protect civilians and wasn't meant to assign blame or cause to either side. 
Rabble-rousers, a police spokeswoman reportedly said, "were a minority. But it was because of these instances of violence that we have decided to take these measures."
"The risks are to the public order. It's not as much about the actual discourse involved in the protests," she added.
However, only pro-Palestinian protests are banned — counter demonstrations by pro-Israel groups are not. 
"The fact that [the French authorities] are so afraid to see so many Arabs rising up in society is a source of hope," Youssef Boussoumah told Al Jazeera, a protester and teacher at a school in the ethnic minority-concentrated outskirts of the French capital. "They act on that fear when they take away our democratic rights."
On Sunday, another round of fire in Gaza left more than 60 Palestinians and 13 Israeli soldiers dead, making it the bloodiest fighting in the roughly two-week-old offensive. The death toll now sits around 400. However, despite the mounting body count, it's unclear when this will end. 
"We will continue this operation for as long as it takes," Israeli Prime Minister Benjamin Netanyahu reportedly said in a very open-ended comment.