Gorgeous Photographs of Historic Theaters Recall a Time Before Netflix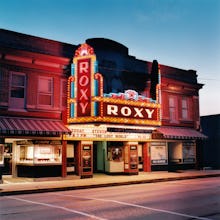 "Whenever I meet people at these exhibits, someone wants to tell me about [a theater] that was in a town where they grew up. The subject matter seems to strike an emotional chord with people."
So says Boston-based photographer Stefanie Klavens, discussing her series of photographs, Historic Theaters. Klavens has photographed theaters nationwide, in small towns and larger cities, from East Coast to West, capturing a slice of American culture that is slowly slipping away. Her work is a moving tribute to a unique era in American history, raising questions about the nature of progress and what gets razed to make room for the future.
Crest Theatre, Sacramento, Calif.; built 1920s and redesigned 1949
Klavens notes that in the past "the neighborhood theater was the anchor of the community's social and economic life. ... Some of these architectural treasures have been saved... but most have been lost forever." In 2001, the National Trust for Historic Preservation ranked the historic movie theater No. 1 on its list of the 11 most endangered historic places.
Mic had the opportunity to talk with Klavens about her work and take a deep dive into what the disappearance of theaters like this says about what pop culture and American culture in general prioritize today:
Mic: What drew you to these historic movie theaters as a subject?
Stephanie Klavens: I have always had an interest in what is now called mid-century or mid-20th century America. When I was younger, I just knew that I liked these sorts of things when I saw them. As I was older and in art school, photographing and exploring a lot of things, I got interested in the visual aspects of mid-20th century America. I really got started being interested in anything graphic, which led to neon signs, and that interest in neon signs really became how I got started being interested in the theaters, with the theater marquis.
Bruin Theatre, Los Angeles; built 1937
You have this great drama when the daylight is starting to fade away and the incandescent lights are coming on. It's a beautiful time to take pictures, often referred to by photographers as the magic hour. Taking the pictures is what really made me develop the interest in the theaters. The interest really grew organically, but it became quite the obsession.
Mic: There are a little more than 20 photographs on the website. Are there more in the collection?
SK: Those are just a small portion of this project. The ones I have on the site are the ones I consider to be exhibition quality, but I have a lot more of these that I feel capture different moods, or would work in different scales.
I view this as an extended photo essay — an overview, not an encyclopedia. I'm working toward a book. But I feel that context in photography is essential; if I'm going to take these pictures, then I wanted to have a little bit of history to go with these pieces. I really want to tell this story of the history of movie-going in America.
Tampa Theatre, Tampa, Fla.; built 1926
Mic: In these images, the theaters appear glamorous yet forgotten. What is the typical status of these theaters in the communities?
SK: It's really different from theater to theater ... and it's really different from community to community. In general, they're large, expensive properties to maintain, because of factors like the loss of downtown and the economic downfall. If there's someone who is a good manager, they can keep it afloat. A lot of places that have reopened have changed into a performing arts space.
A lot of these efforts to save the theaters are grassroots. When a theater does sustain, it's definitely the passion and the labor of love of the people who are running it and the grassroots supporters.
Mic: These photographs are evocative, haunting and full of atmosphere. Most of the theaters are shot without people, isolated and empty. Could you talk about that artistic decision?
SK: When I photograph the outside, I feel like I'm catching a moment on the street, and what I get is what I get. There is a woman at the box office at the Senator, and I just love that she's there.
Senator Theatre, Baltimore; built 1939
I like when there's an occasional pedestrian in the exterior shots. Sometimes there are no people in it, but it's really dependent on what's happening. Like I said, I feel like I'm capturing something, and what I get is what I get.
Tower Theater, Los Angeles; built 1927
These are long exposure shots with the Hasselblad [camera], on average three minutes, but sometimes as long as five. I don't think I could really do this project with people involved. Due to my working method, the insides of the theaters are empty.
Mic: Do you see the loss of the movie theaters as a part of the larger narrative of the evaporation of the American small town, and even the loss of the middle class?
SK: What I see is that it encompasses the ideal of the small town in the spirit of the contemporary imagination. I think that the ones that are taken on the street in a small town, images like the Fox, do speak to an evocative, perhaps idealized period in American history. Certainly they exist in the collective memory of when times were simpler. 
Fox Theatre, Sidney, Neb.; Unknown
It goes back to the business forces that make downtown not viable anymore. I'm not a historian, but in my observations, people are more dependent on their cars. With car culture and the suburbs, people go to their malls and megaplexes [not downtown]. 
This is about the history of these social places, and about losing the past and the recognition of changes due to society and economic forces.
Kallet Theater, Oneida, N.Y.; built 1937
Klavens' images are currently on display at The Fence, in Boston, Brooklyn and Atlanta.