President Obama Makes a Historic Move to Protect Gay Rights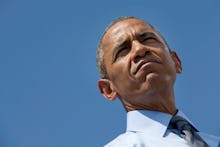 The news: On Monday, President Obama will sign two executive orders to protect LGBT employees working for the federal government. 
According to the Associated Press, the president will unilaterally amend two previous executive orders to include LGBT workers: the first, Executive Order 11246, came from President Lyndon Johnson in 1965 to prohibit federal contractors from discriminating in employment decisions, and the second, Executive Order 11478, President Richard Nixon signed in 1969 to widen the scope of equal employment opportunity for federal workers. Provisions will remain in effect allowing certain religious groups to hire and fire on the basis of religion.
This is a huge move. Human Rights Campaign President Chad Griffin told the AP that "With two strokes of a pen, the president will have a very real and immediate impact on the lives of millions of LGBT people across the country." HRC campaigner Fred Sainz told the Wall Street Journal that, "There's no doubt that LGBT workers prevailed."
Why it's so important: The president and congressional Democrats couldn't pass the Employment Non-Discrimination Act, which would have extended such protections to all workers, thanks to Republican resistance in the legislature. This executive order is a secondary measure designed to do what POTUS can do within his jurisdiction. Regardless, it is probably one of the boldest policy decisions a sitting president has ever made on LGBT rights. Think Progress says it will extend protections to more than one million federal workers.
The orders will also ignore requests from religious groups to include a provision exempting them from the new regulations. After the Hobby Lobby ruling, which exempted some employers from providing birth control to their female employees, religious conservatives hoped that the administration would cave and provide a similar out on LGBT discrimination. While it was unlikely that the administration would back down, this is proof they're definitely not planning on it. 
It's not over yet: In 29 states, LGBT employees have no recourse from being fired on the basis of their sexual orientation. Thirty-four states allow employers to fire transgender employees for having a nontraditional gender identity. While robust, this is a narrow victory that will still leave many private-sector LGBT workers at the mercy of their employers. What's more, court challenges could still leave the orders vulnerable to an assault from the right. Obama's move should be celebrated, but there's still a lot of work to be done on behalf of LGBT workers.