Malaysia, Ukraine Rebels Reach Agreement to Allow "Safe Access" for MH17 Crash Investigators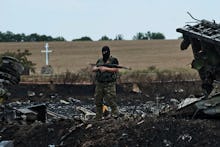 This story was updated at 12:33pm ET.
"Under difficult and fluid circumstances, we have been discussing the problems that have occupied us all: securing vital evidence from the aircraft, launching an independent investigation, and above all recovering the remains of those who lost their lives," Razak said in a statement. "Tonight, we have established the basis of an agreement to do just that."
The DailyMail reports, "the remains of 282 people, currently in Torez, will be moved by train to Kharkiv, where they will be handed over to representatives from the Netherlands. The train will depart this evening Ukraine time and will be accompanied by six Malaysian members of the recovery team. The remains will then be flown to Amsterdam on board a Dutch C130 Hercules, together with the Malaysian team."
The announcement comes after President Obama urged Russian President Vladimir Putin to compel Russian-backed separatists to stop hampering the international investigation into the downing of Malaysian Airlines Flight MH17.
Editors Note: Mar. 3, 2015 
An earlier version of this article failed to cite a passage from the DailyMail in accordance with Mic editorial standards. The article has been updated to properly attribute the language to the DailyMail.