What We Lost on Malaysia Airlines Flight MH17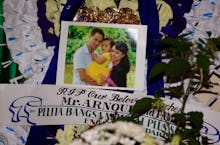 The world has been attempting to make sense of what happened with Malaysia Airlines Flight MH17, downed Thursday in eastern Ukraine, where Ukraine and Russian separatists are fighting a heated battle. 
The 298 dead and their grieving relatives have been dragged into a nightmare: There are allegations that the plane was shot down by Russian separatists; Ukranian officials allege that the missiles that downed the plane were supplied by Russia.
To make the situation even more heartbreaking, the bodies are stuck in a fly-infested railway station in eastern Ukraine and some people are accusing the separatists of holding the bodies hostage for political gain. The separatists say they are waiting for international officials who have yet to come, but that has left the horrid clean-up of the bodies to untrained locals.
It is a heated blame game that only continues to escalate, a reminder that in bloody, political struggles, innocent civilians always pay the highest price. 
Those on board all had names, lives and loved ones they left behind. They were the brothers, friends, sisters, daughters and partners.
Here are just a few of those victims, remembered the way that they should be: not as part of a tragic situation, but for their incredible lives that were cut short.
1. Karlijn Keijzer
Keijzer, 25, was on vacation with her boyfriend, taking a break from working on a research project helping people with cancer and Alzheimer's disease. She was a chemistry doctoral student at Indiana University and a member of the university's rowing team.
2. Tessa van der Sande
Image Credit: Facebook
A highly accomplished program officer in Amsterdam for Amnesty International The Netherlands, 26-year-old van der Sande was traveling with her parents and brother on vacation to Indonesia.
3. Martin Paulissen
Image Credit: Associated Press
Martin, just 5 years old, was on the way to visit his grandmother's grave. He and his 3-year-old sister Sri were some of the 80 children killed on the flight.
4. Marnix, Piers, and Margaux Van den Hende
Image Credit: Facebook
Twelve-year-old Marnix, his 15-year-old brother Piers and their 8-year-old sister Margaux, all seen here with the happiest of eyes, were lost in the tragedy.
5. Shazana Salleh
Image Credit: Facebook
Salleh, 31, dreamt of becoming a flight attendant as a way to travel the world, her father said. Last weekend, she posted on her Facebook that she was watching the final game of the World Cup in Kuala Lumpur.
6. Gary Slok and Petra van Langeveld
The mother-son pair were on their way to Kuala Lumpur for a trip for single parents and their children. They took a selfie aboard the flight.
Van Langeveld posted on Facebook that she loved pilates, tennis and skiing.
7. Jacqueline van Tongeren
Image Credit: Facebook
Van Tongeren was on the plane with her partner, Joep Lange, both experts in HIV research. Van Tongeren started as a nurse for AIDS patients and became a communications director at the Amsterdam Institute for Global Health and Development and was a member of Art AIDS, which encourages people to express themselves artistically about AIDS.
8. Joep Lange
Lange, a prominent AIDS researcher for decades, was on the way to the International AIDS Conference in Melbourne with his partner, van Tongeren. He was a renowned expert focused on making AIDS treatments less expensive in Asia and Africa. 
9. Pim de Kuijer
De Kuijer, a 32-year-old gay rights and democracy activist, was also on his way to the AIDS conference. He had traveled to Ukraine during the recent presidential elections to ensure the democratic process ran smoothly.
10. Regis Crolla
Crolla, 19, was on his way to Indonesia after saving up for the trip.
Crolla, who worked at a nightclub, left behind colleagues and friends who came together during this dark moment.
"When we got the news, 50 of us came to the club and did our best to support five or six people who were really close to Regis," one co-worker said. "We still can't get used to the idea that he won't be back."
11. John Allen, Sandra Martens, Christopher, Julian and Ian
The family of five was on their way to Indonesia for a vacation. Allen was a prominent British lawyer and his wife, Sandra, was a Dutch elementary schoolteacher. They were on board the plane with their three sons, aged 8 to 14. Allen's law firm said he was a "kind, down-to-earth and humorous man."
12. Shuba Jaya, Paul Goes and Kaela
Image Credit: Facebook
Malaysian actress Shubashini Jeyaratnam (better known as her stage name Shuba Jaya), her husband Goes and her 1-year-old daughter Kaela were on their way home to Kuala Lumpur from the Netherlands. They had just introduced their daughter to Goes' parents. 
13. Sri Siti Amirah
Amirah, 83, was on her way to Indonesia to spend Eid al-Fitr, a Muslim holiday celebrated at the end of Ramadan, with her daughter.
She was the step-grandmother of Malaysia's prime minister, Najib Razak, who shared his grief on Twitter. Faridah Abdullah, a family spokesman, said she was, "a kind-hearted, beautiful woman. She was a homemaker who looked after my grandfather very well. We called her ibu (mother)."
14. Glenn Raymond Thomas
Image Credit: World Health Organization
"The silence at the loss of his laughter is profound," Thomas' colleague at the World Health Organization, Christopher Black, said. Thomas was a media officer for the WHO and was traveling to the AIDS conference in Australia. He had also been a BBC journalist; he then worked for the WHO for more than 10 years promoting its AIDS report.