This Kid's Vine Videos of White People Following Him Around Convenience Stores Are Outrageous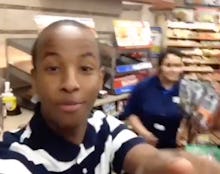 The news: Racial profiling is no laughing matter — unless it's captured by Vine user Rashid Polo in a series of short but revealing video clips. In that case, it's still unfunny, but goes a long way toward highlighting how absurd and embarrassing the practice truly is.
Prepare to cringe:
What. These videos allegedly show a number of convenience store clerks nonchalantly following Polo to "make sure" he doesn't steal anything. 
They are not slick. Each time Polo catches them snooping, his accusatory outburst sends them scurrying down the aisles. 
It would be hilarious social satire if it wasn't so real. 
Background: For the uninitiated, this phenomenon has a long and troubled history.
"Shopping while black," the "crime" of being black and daring to enter a store with the intent to browse or possibly buy something, is routinely met with suspicion, harassment and in some cases, outright detainment. 
Department stores Barneys and Macy's were both slapped with discrimination lawsuits for this last year. In the former case, 19-year-old Trayon Christian was "accosted by undercover city police officers" when he left Barneys with a $350 belt he'd just bought; one the cops said there was no way he could afford it.
Actor Rob Brown (of Finding Forrester) was also handcuffed and detained for an hour at a Macy's after being falsely accused of credit card fraud. And in 2008, three Atlanta women were detained on suspicion of shoplifting at an Old Navy during their lunch break, prompting CNN's Soledad O'Brien to air an entire Black in America segment on the issue. 
In short: "Consumer racial profiling" is a troubling staple of the black shopping experience. Exposing its absurdity seems to be one of the few ways to raise awareness and embarrass perpetrators, and for that, Rashid Polo, you are appreciated.