What the Media Is Getting Wrong About Steven Gerrard's Retirement From International Soccer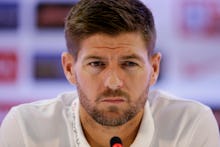 The international career of Steven Gerrard ended in the modern fashion, with the dimly lit, choreographed video interview and hashtag combination that illustrated all the misguided self-importance you would expect from the England national soccer team. But Gerrard's 114 games for his country don't merit the platitudes that have accompanied his international retirement and resignation as captain. By the time he became skipper in 2010, Gerrard and his generation of England players were already failures. And — unlike contemporaries David Beckham, Michael Owen and even Wayne Rooney — his career will always be defined by what he did in the jersey of his club, rather than that of his country.
Gerrard was unfortunate that his career overlapped almost perfectly with Frank Lampard, who has been to Chelsea what Gerrard is to Liverpool in the past dozen-or-so years. Different, but equally effective, attacking midfielders in the Premier League and Champions League over a sustained period of time, the debate over whether they could or should play together came to define England's "golden generation" era.
In truth, though, Gerrard (and Lampard) almost never played in his best position for his country. For Liverpool, his most devastating seasons have come when he's been allowed a free role that doesn't require much discipline; either pushed wide in Rafa Benitez's early teams or just behind Fernando Torres when the Reds came close to winning the Premier League in 2009. While Steve McClaren (England coach from 2006 to '07) and Fabio Capello (2008 to '12) briefly dabbled with Gerrard as a wide forward, he has spent most of his England games as part of a central-midfield two, a role he has never had the discipline or ball-retaining ability to excel in — particularly at international level.
Successive England managers failed to make the difficult decision to build the team around Gerrard or Lampard in their best position — even if that meant leaving the other out — and chose instead to let the pair sort it out themselves in an orthodox central midfield, something they couldn't do without any experience of it at club level.
But although Gerrard's international failure can be put down largely to a failure of management, his ego played a part, too. From the moment Benitez arrived to coach Liverpool and played his captain in a wide position, Gerrard never missed an opportunity to tell the press that he saw himself as a central midfielder first and foremost. Even this year, after a decade of evidence to the contrary, he still got up at a press conference and stated that he and Lampard could play together effectively.
At Liverpool, he's always been the main man. And, although playing for his country seems to genuinely mean something to him, he's been a peripheral figure for almost his entire international career. There have been occasional impressive performances against second- or third-level opponents, but England's results in the big games over the past 10 years wouldn't have been any worse had Gerrard not been around.
You have to go all the way back to 2001 for his best moment in an England shirt, the second goal in a famous 5-1 qualification win in Germany that helped his team make it through to the following year's World Cup in South Korea and Japan. He pulled out of that tournament due to injury, when he was young and could have caught other teams cold, giving England the energy they ended up running out of. Gerrard wasn't there when England had arguably its best chance of winning the World Cup since 1966. As it is, his international career amounts to 114 games of nothing much.