The Next Big Country Duo Is Here, and They're Tearing 'Bro Country' Apart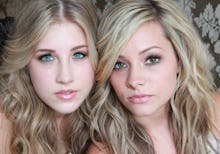 Daisy dukes. Tan legs. Bare feet. Bikini tops.
If you've listened to country radio at all over the last few years, you've heard the immensely popular bro country's laundry list of favorite lyrics, all of which serve little purpose beyond objectifying their intended targets: women (or, as those guys would say, "girls"). Put them together and you have the Manic Country Dream Girl, a human collage of beer ads and bikini mags that'll shoot whiskey down by the river but can still go home and meet your mama. 
Think piece after think piece has been written about Bro Country, but the close-knit country songwriting community hadn't responded — until now. Today, Maddie & Tae, two 18-year-old Nashville singer-songwriters, fired back with their badass new single, "Girl in a Country Song." 
This is one of the most important country songs to hit airwaves in years. Line by line, it invokes and then tears down the biggest offenders in country music. If anyone is qualified to write it, it's Maddie Marlow and Tae Dye, who came of age within the music industry after meeting at a vocal showcase in North Texas when each was 15. They began taking writing trips to Nashville together, eventually meeting Big Machine Music's Mike Molinar and one of their current co-writers, Aaron Scherz. That meeting with Molinar led to a record deal from Dot Records, a division of Big Machine Label Group, the company responsible for launching the careers of Taylor Swift and Florida Georgia Line.
As they made their way through the industry, though, they realized that they weren't exactly welcome. Again and again, they heard the same tired tropes on the radio. The bro country kind of sexism is far from unique to country music, but it feels more problematic in a genre where only one song — "Something Bad" by Miranda Lambert and Carrie Underwood — out of the Billboard Top 25 is by a female artist. (Unless you count tracks featuring female guest singers, or bands with female members — those bring the count to 5.) By those numbers, female country artists are as voiceless as the women depicted in their male counterparts' songs.
Image Credit: Facebook
"We walk into a songwriting session one day and Maddie goes, 'OK, I would hate to be these girls in these songs,'" Dye tells Mic, as the two are en route to Houston on part of a radio tour.
"It's a tough gig that they've got going on," Marlow laughs. "You have to have cutoff jeans. You have to have tan legs year-round, shake your moneymaker on a tailgate, all this stuff. Tae and I were like, 'I don't think we can live up to those expectations. Those are some really high expectations.'"
Those unfair expectations quickly turned into a hitlist the duo drew from to write "Girl in a Country Song," a biting track that references songs from artists like bro kings Jason Aldean, Thomas Rhett and Billy Currington with take-no-prisoners jabs that often lift actual lines from the songs in question, inverting the bro-tastic stereotypes into a message of empowerment for women.
"Being the girl in a country song / How in the world did it go so wrong? / Like all we're good for is looking good for you and your friends on the weekend."
Best of all, the song has a chance to make it big. In the spirit of true satire, the track is produced in full Bro Country grandeur, complete with booming bass, hip-hop beats and a huge, heavily compressed chorus that would make Florida Georgia Line proud. "It was tricky because we said, 'If we're gonna be poking fun at all these amazing songs on the radio right now, our song has to live up to that,'" Marlow explains of the song's production. It clearly worked — "Girl in a Country Song" was added to country radio stations' playlists more than any other track this week.
It's easy to approach this track with cynicism, seeing it not as an anthem for gender equality but instead the clever "next move" by a label known for developing commercially successful artists. But whatever the motivations, "Girl in a Country Song" is a strong first step on the long road of bringing female voices back to the country mainstream, catchy hooks and all.
Here's a breakdown of all the songs and stereotypes Maddie & Tae are taking down:
1. "Well I wish I had some shoes on my two bare feet"
"Barefoot Blue Jean Night" by Jake Owen
The Manic Country Dream Girl is always barefoot, ready to run down the side of a riverbank and go skinny dipping at your beck and call. This barefoot trope, epitomized by Jake Owen's ode to summer hookups "Barefoot Blue Jean Night," was the first on Maddie & Tae's list of offenders.
2. "And it's gettin' kind of cold in these painted-on, cut-off jeans"
"Whatever She's Got" by David Nail
"She's a little complicated," David Nail sings in "Whatever She's Got," but not so complicated that she strays from her uniform requirement of Daisy Dukes. One of the most caustic lines of "Girl in a Country Song" comes at the end, when Maddie & Tae sing, "Can I put on some real clothes now?" Because fellas, let me tell you, glorified denim underwear is NOT comfortable. 
3. "I hate the way this bikini top chafes, do I really have to wear it all day? (Yeah baby!)"
"Cruise" by Florida Georgia Line
This is perhaps the song's gutsiest jab, as it goes after "Cruise," the magnum opus of Maddie & Tae's label mates Florida Georgia Line.
As for offending their colleagues, the duo hopes FGL will take it in stride. "These guys that we're singing about and referencing are amazing," Dye says. "We've actually met Florida Georgia Line. They have a great sense of humor."
4. "I hear you over there on your tailgate whistling"
"That's My Kind Of Night" by Luke Bryan
This song, which Zac Brown deemed one of the worst songs he's ever heard, covers just about every offense on this list (plus one line that would have been a great addition to Maddie & Tae's takedown were they not underage: "Girl hand me another beer." UGH.), but let's focus on tailgates, the hangout of choice of the Country Brothario. 
5. "Saying 'hey girl' but you know I ain't listenin'"
"Hey Girl" by Billy Currington
Women are typically referred to as "girl" in country songs. In Billy Currington's "Hey Girl," he uses the word "girl" 17 times. It's a demeaning word — one that flattens women into silly sex toys. That's what inspired Maddie & Tae to give girls an interior life through "Girl in a Country Song."
6. "It's driving me red-red-red-red-red-red-redneck crazy"
"Boys Round Here" by Blake Shelton
The girls get a twofer with this one, digging at Blake Shelton's "Boys Round Here" and Tyler Farr's "Redneck Crazy." The former, while cliche-ridden, is far less inflammatory than the latter, which features violent lyrical gems like "Gonna drive like hell through your neighbourhood / Park this Silverado on your front lawn" and "I'm gonna lean my headlights into your bedroom windows / Throw empty beer cans at both of your shadows." 
The duo, then, couples two of Bro Country's biggest offenses — lazy writing and jealous misogyny — to offer one succinct statement of how it feels to be a woman in country music.
7. "To climb up in your truck, keep our mouth shut, and ride along"
"Country As Me" by Chase Rice
Now, there are countless songs guilty of the "climb up in my truck" trope, but we'd be remiss not to include Chase Rice, who, so far, is the only male country star who has voiced an opinion on "Girl in a Country Song." Rice recently tweeted "I love this new @MaddieandTae song. Somethin sexy bout a little shit talkin. Keep it up girls."
... Looks like some country bros can't even tweet about women without sexualizing them. 
8. "Well shakin' my moneymaker ain't never made me a dime"
"Honky Tonk Badonkadonk" by Trace Adkins
First, let's pause and appreciate the fact that this is a real song. With lyrics that would embarrass Sir Mix-A-Lot (for their quality, not their content), "Honky Tonk Badonkadonk" offers PUA-worthy wisdom like "It ain't right to hate her / for workin' that money-maker," which takes objectification to a fun new low. 
Maddie & Tae invert this trope, though, by pointing out that, as the charts attest, it's men who typically profit from exploiting the sexuality of women in country music. 
9. "And there ain't no sugar for you in this shaker of mine"
"Get Your Shine On" by Florida Georgia Line
In "Get Your Shine On," Florida Georgia Line manages two offenses (see also: #11) in just one line, imploring Nameless Girl to "slide that little sugar shaker over here," a metaphor that would, in practice, induce more vomiting than swooning. Maddie & Tae take back the proverbial shaker, so to speak, keeping their sugar to themselves.
10. "Tell me one more time you gotta get you some of that"
"Get Me Some of That" by Thomas Rhett
If there's anything worse than just being called "girl," it's being called "that." Maddie & Tae don't take kindly to this brand of objectification, either, as evinced by the next line ... 
11. "Sure I'll slide on over, but you're gonna get slapped"
"Take a Little Ride" by Jason Aldean
The "slide on over" command is a popular one, which makes me wonder how many people actually drive trucks with bench seats these days. That mystery aside, this condescending command doesn't last long in Maddie & Tae's inversion.
12. "Aw naw"
"Aw Naw" by Chris Young
Right after sarcastically singing the title from a Chris Young single about, you guessed it, wanting to dance with a girl in painted on jeans, Maddie & Tae declare that "Conway [Twitty] and George Strait never did it this way back in the old days," nodding to classic country songs that feature women as more than just props. The next line — "We ain't a cliche" — says it all. 
13. "Down some old dirt road we don't even wanna be on"
"Dirt Road Anthem" by Jason Aldean
While they don't overtly reference women and/or their body parts, many girls in country songs get taken down these dirt roads which, to the men in question, must hold some mystical romantic power. (Word to the wise, fellas: We'd rather go out for a nice meal.)
"Towards the end of the song we realized we forgot dirt road," Marlow laughs. "So that would explain the 'down some old dirt road we don't even wanna be on.'"
14. "I ain't your tan-legged Juliet"
"My Kinda Party" by Jason Aldean
With three offenses to his name, it's safe to say Jason Aldean will likely never ask Maddie & Tae to open for him on tour. But that's OK — they'd be a better fit for someone like Miranda Lambert, who has more realistic takes on female beauty.
"We want girls to feel beautiful no matter what they're in or what they look like," Marlow says. "You don't have to have tan legs year round. You don't have to cut off every pair of jeans. You don't have to be this stereotypical girl to feel beautiful and to be beautiful."