The World Goes Crazy for Beyoncé the Riveting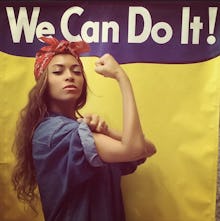 Sasha Fierce has nothing on Queen Bey's new incarnation, "Beyoncé the Riveting."
Beyoncé, who is currently on tour with her husband, Jay Z, set the interwebs on fire Tuesday morning with her latest Instagram photo taken at National World War II Museum in New Orleans:
Image Credit: Beyoncé/Instagram
Indeed, she woke up like this, and then the Internet collectively screamed, "Yaaaaaassssss!"
In part, many exclaimed their approval because this homage to the iconic Rosie the Riveter signifies Beyoncé's feminism — an issue that continues to be debated by feminist bloggers and trolls alike. Even feminist foremother, the esteemed bell hooks, took qualms with Bey's feminism recently, calling her a "terrorist" because of her participation in capitalist society.
Sorry bell, but the biggest way to effect social change is to participate in institutional structures — yes, the very ones that oppress you. Because while we all love Audre Lorde, she wasn't quite on par with the whole "the master's tools will never dismantle the master's house" thing. Or, as Barney Frank said in his hilariously fantastic critique of the million gay Equality March back in 2009, "The only thing they're going to be putting pressure on is the grass."
Beyoncé is a feminist because she says she is — the Queen doesn't need your approval. 
Bustle even suggests that Bey's pic is an indirect slam at the nutjobs behind the Women Against Feminism Facebook and Tumblr, a phenomenon that is infuriating. Not only are they completely misunderstanding what feminism is (legal equality, the only kind of equality possible, for all genders, and nothing more), but also due to these ladies' complete inability to spell.
The real Rosie the Riveter, Rose Monroe, became a cultural icon and a representation of the importance of women to the fabric of American society, particularly the economy, during a time of war.
In this context, perhaps Beyoncé's interpretation is anticipating a larger-scale global conflict — one that is surely on everyone's minds, as war is happening in Gaza, the Ukraine, Libya and elsewhere. At the very least, we know this from both Rosie the Riveter and Beyoncé the Riveting: neither are Beyoncé voters.