A New State Could Vote to Legalize Marijuana in November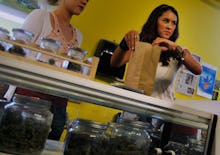 The news: Oregon residents will vote on an initiative to legalize, tax, and regulate recreational marijuana this November. That could make Oregon the third U.S. state to truly legalize it, behind Colorado and Washington.
Overwhelming support. Proponents submitted 145,000 signatures of people who support the initiative, nearly double the 87,213 required to get it on the 2014 ballot. A similar recreational marijuana voter initiative on the 2012 ballot was narrowly defeated with 53.42% of residents against. According to a 2014 poll, 53% of state residents now support legalization, giving this new initiative a better chance. Second time's a charm.
What happens next? If approved, the initiative will make it legal for adults to possess up to 8 ounces of cannabis and grow up to four plants, taxed at $35 per ounce and $5 per plant, respectively. As the third state to legalize, Oregon would be able to craft a legal marijuana program adjusted for any mistakes made in Colorado and Washington. Alaska will also vote on recreational marijuana legalization this November.
If successful, these could be huge moments for marijuana legalization, further turning the tide to create a legitimate, functioning regulatory system for the long-prohibited plant. An organizer for New Approach Oregon, which spearheaded the campaign, said, "This is our moment to be part of history and lead a movement."