There's a Big Update to the Malaysia Air Crash in Ukraine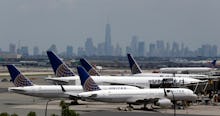 The news: According to senior U.S. intelligence officials, the American government has no evidence of a direct link between the Russian government and the missile used to shoot down Malaysia Airlines Flight MH17.
The Associated Press reported on Tuesday that although Russia has been arming separatists in eastern Ukraine, thereby "creating the conditions" that led to the attack, there is no evidence that the weapon used in the crash of MH17 came from the Russian government.
Confirming earlier reports, officials noted that the plane was likely struck by a SA-11 surface-to-air missile; they did not know, however, who fired it or whether Russian operatives were involved at the time of the launch.
"We don't know a name, we don't know a rank and we're not even 100 percent sure of a nationality," said one official. As for why the plane was shot down in the first place, they said it was likely a mistake, as the rebels had previously shot down 12 Ukrainian military planes.
This doesn't entirely mesh with the narrative of the past few days. U.S. officials, including President Obama and Secretary of State John Kerry, have been adamant over the last few days that Russia has been arming separatists in eastern Ukraine, thereby making them complicit in the attack.
Although Kerry said on Sunday that there was a "mountain of evidence" linking Russia to the attack, this latest report seems to contradict that. Instead, it reinforces the fact that the U.S. still has little conclusive evidence as to the identity of the culprit or culprits.
Although there has been some headway, questions still remain. The officials stressed that Ukraine was not responsible for the attack, dispelling claims made by Vladimir Putin.
What has yet to be nailed down, however, is the extent of the relationship between Russia and the separatists in eastern Ukraine. Russia has clearly been arming the rebels, but it's unclear when, how, and where this arming occurred.
Although this report has seemingly dispelled the notion that Russia was directly linked to the attack, the connection between Russia and the rebels is murky, and it looks as though it will remain that way for the time being.