1,800 Years of Rich Christian Heritage Are Under Dire Threat in Iraq Right Now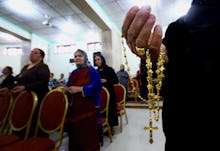 For the first time in 1,800 years, no church bells were heard this past Sunday in the northern Iraq city of Mosul. 
The group muffling Mosul's Christian heritage to extinction is Islamic State (IS), a radical jihadist organization that controls the city, and swath of land surrounding the border between Syria and Iraq. 
When the Islamic State came into Iraq, it came storming in and Mosul was first.
Image Credit: AP. Supporters of Islamic State carry their flags in Mosul.
Iraq's second largest city, Mosul fell to the militants on June 10 and has been occupied ever since. The city of 1.8 million had an estimated 500,000 flee almost immediately. Meanwhile, the Islamist terror group has inched toward the capital of Baghdad.
The attack on Christians is a part of the IS fantasy of building a so-called Islamic state, based on what they view as being Islamic law. The militant group has now displaced Mosul's 35,000 Christians, taking their homes and robbing them.
Image Credit: Getty Images. An Iraqi Christian woman during mass in Arbil, Kurdistan.
One woman, Inam, 55, an Iraqi Christian woman forced to flee her home, told Global Post that IS members manning checkpoints outside of Mosul took not only valuables, but also her medication — even going as far as confiscating water bottles from the family's children. 
Image Credit: Getty Images. Iraqi Christians flee Mosul. 
Inam's story is one of many sad stories, tales of people forced to move their lives because of their religious beliefs. Initially, IS said that Christians could remain in the city — but only if they paid a huge "protection tax," $250 a month, or face death. 
However, the city's Christians were told Friday to leave by midnight on Saturday — or else. Like Inam, many others reported being robbed of the few items they ran away with. 
Homes of families were marked in red, sometimes labeled with a red "N" as an abbreviated version of "Nasrani", a derogatory term for Christians to streamline the stealing and demolition of homes.
Michael (not his real name) fled to Kurdistan along with three other families, and described what it felt like to leave their homes: "My family are very sad and crying — we left our land and everything we have so we won't be killed."
The Hammurabi Human Rights Organization says 1,500 Christian families left the city over the weekend and say they're the last of the Christian population there.
Image Credit: AP. Displaced residents of Mosul in neighboring town called Qaraqoush.
To further the religious insults, some women said militants tore off their crucifixes. 
It is a part of the group's wider campaign against both Christians and members of the Shia sect living in Iraq. Islamic State is currently waging a brutal campaign against Christians in the northern Iraqi Nineveh province. 
In furthering their warped vision of a state, members of the group have even gone as far as raping Christian women. In one horrifying instance, a man committed suicide after watching jihadists rape his daughter and wife.
IS members also cut off the water for Christian strongholds in the province. Islamic State also barred food from being delivered to communities, leading to starvation.
The group has also declared war on Iraq's historic shrines and culture, blowing up a Shia mosque in Mosul, and burning down the 1,800-year-old Syriac Orthodox archdiocese.
One video uploaded to YouTube allegedly shows militants destroying the tomb of Prophet Jonah (important to both Christians and Muslims), with a sledgehammer.
It's yet another worrying sign of what is to come for war-torn Iraq.