This Artist Is Wearing White Women as Scarves to Send a Controversial Message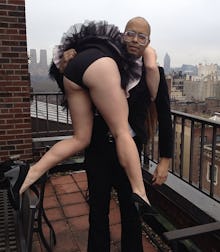 "I wear white women for status and power." So goes the the tagline of a young New York City performance artist's photography project. But while some have lauded the art, one has to wonder if this headline-grabbing stunt merely represents a reinvented, "enlightened" patriarchy — misogyny done in jest, as "performance," of course.
"Trophy Scarves" is the ongoing work of self-proclaimed "intuitive artist" Nate Hill, a 36-year-old bespectacled Gen X-er. The eyebrow-raising conceit consists of an ever-growing series of selfies in which he, a mixed-race man, literally wears nude or scantily clad white women. It's satire as social critique, calling attention to desire and power in terms of race and gender relations. In the photos, Hill "performs" black manhood while wearing the "prize" of a a white female body, a "trophy" he has earned to raise his status. The project has thousands of followers on Instagram, and Hill has become a pseudo-celebrity on the virtual newsstand, with interviews in publications such as the Daily Mail and the New York Daily News.
Image Credit: Nate Hill/Instagram
During his interview for this piece, Hill asked if one of his models could help him answer Mic's questions, because as an "intuitive artist," his model could afford a different perspective of the work. This model, a Millennial white woman, clearly supported the notion of the project as satire, saying that the "mission statement is as simple as it could be: white women as a status symbol. There is no hidden message, [Trophy Scarves] is a very transparent, satirical project that anyone may contemplate."
This model noted that she had been drawn to the project because it "approach[ed] problematic topics combatively and lightheartedly," specifically concerning the portrayal of white women in the media, "which is a product of a racist, white supremacist, capitalist agenda that has a global influence due to... cultural imperialism."
The point of the piece, this model told Mic, is to make "(white) women look submissive, objectified, hunted at the will of a tuxedo-clad (black) man. He obviously had power over all of the models; they did basically whatever he asked him to do." In other words, "Trophy Scarves," for this model, perfectly captures the spirit of satire in its representation of white women.
Image Credit: Nate Hill/Instagram
The issue of race also plays a role in the project, according to Hill, who told Mic that his identity is all part of the performative nature of "Trophy Scarves." "I'm half black and half white, but wanted to pretend to be a 'black man,' [with] which I have never identified," he said. "Black men have something for white women. Personally, I love white women more than any other (except my wife of course), but I'm not sure why. Many blacks I've spoken to think it's because my mom is white."
But can art be intended as both satire and clickbait? Can art educate through raising social awareness while also drawing on our human egotistic impulses?
Hill acknowledges that he is "interested in [his] projects being critical but also popular," which is why he specifically looks for cisgender feminine subjects (or objects?) who can elicit "the most male gaze possible for this project."
Image Credit: Nate Hill/Instagram
"Trophy Scarves" is done in the name of satire, but satire's viability depends on the clear distinction between reality and critique, and when it comes to satirizing misogyny, it's debatable as to whether that distinction exists in a culture where women are shot to death for refusing to date guys and mocked after they are gang-raped.
This project, with its overt desire for popularity, problematizes its claim to satire. We've seen the results of this conflict before, notably in the pieces of male faux-feminists like Gavin McInness, cofounder of Vice and contributor at Thought Catalog, who jokes about punching women and how pixie haircuts effectively "rape" men. When questioned, McInness in particular is quick to play the misunderstood card, accusing his detractors of being idiots too stupid to grasp his deft usage of satire. In such cases, "satire" is nothing less than a cover for not very subtle hate speech.
What separates Hill's project from these writings, of course, is the very explicit act of performance, which secures its place as satire. If the intended effect is controversy, then Hill has definitely succeeded. But one has to wonder whether Hill's inherent — and yet never addressed — male privilege ultimately undercuts his purpose.