One of America's Most Elite Colleges Is Offering a Class on 'Game of Thrones'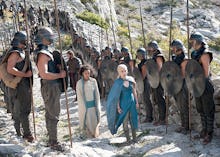 For any college students feeling bitter that their humanities classes focus too much on the likes of Shakespeare, Kant and obscure historical documentation, the University of Virginia has added the best summer class ever to its roster: a course on Game of Thrones.
The class, focusing on the books as a literary text rather than its historical allusions, will be taught this summer for four weeks and course credit. If you thought it sounded light though, you're wrong: Critically discussing A Song of Ice and Fire and Game of Thrones as a literary and televisual artifact, professors say, is an important and useful skill.
Image Credit: Helen Sloan/courtesy of HBO via the Atlantic
"Game of Thrones is popular, it's interesting, but it's also very serious," said Professor Lisa Woolfork, who will be teaching the GoT course, in a UVAToday bulletin. "There are a lot of things in the series that are very weighty, and very meaningful, and can be illuminated through the skills of literary analysis." 
This GoT course is not the first example of pop culture in an academic environment. University syllabi have already included The Wire and The Sopranos, and classes have been offered on Beyoncé, Miley Cyrus and Harry Potter.
Image Credit: WB via the Harry Potter Wiki
These may all sound like reasons to scoff, but Woolfork makes a good point: The way writing is distributed to the masses has changed dramatically in the last century in an increasingly electronic age. Writers of the 21st century discuss and reference television, music and film, so why should they not become a part of cultural studies and academic training? With a book series like A Song of Ice and Fire as well, built heavily on historical documents of the War of the Roses, you're basically reading a dragon-heavy version of Shakespeare's history plays.
So rock on UVA for getting with the times, even if it may take another 20 years to study the completed series.