The FDA Is Perpetuating a Dangerously Homophobic Myth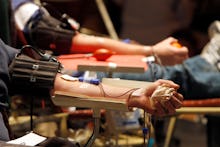 If you're a man who sleeps with men, your blood is dirty — or so the FDA would have you believe. 
After more than 30 years, and despite considerable progress on HIV education and treatment, the lifetime ban on blood donations from men who have sex with men (MSM) continues, a vestige of past homophobia cloaked in dubious science. 
Although the exclusion is often referred to as the "gay blood ban," the policy is a bit more complicated than that. Transgender women who have had sex with men are also excluded by the lifetime ban, as well as all men who have sex with men, regardless of their sexual orientation. Additionally, cisgender women who have had sexual contact with an MSM, particularly those of whom are bisexual, are subject to a temporary, one-year exclusion from donation while sexually active with that partner.
That's right. It's now 2014 and we're still having a conversation about healthy, non-heterosexual men (and their partners) being able to donate blood. But there's one issue that transcends all political conversations and stigma about sexual orientation, an issue that should be the only real consideration in the blood donation debate: saving human lives.
Image Credit: Getty Images
With the American Red Cross reportedly facing an emergency blood shortage nationwide this summer, the season when blood donations typically drop in volume, turning away millions of potential donors because of an outdated policy only makes the shortfalls worse. And although repealing the ban could actually help bridge shortfalls, there seems to be no political incentive to move forward on a repeal.
It's a reality not lost on the American Red Cross, America's Blood Centers and the American Association of Blood Banks, all of whom have openly advocated for repealing the exclusion for years, calling it discriminatory as well as "medically and scientifically unwarranted."
The bureaucratic roadblock? The Department of Health and Human Services (HHS), which includes the FDA. That's despite bipartisan congressional pressure, as roughly 80 members of Congress signed a letter to HHS in 2013 urging an immediate policy reversal. 
The FDA and HHS say they're acting to protect the blood supply from contamination, given that gay men have historically had a higher rate of HIV infection than the general population. But the exclusion no longer makes medical sense, according to various medical professionals. 
Image Credit: Getty Images
Most recently, an op-ed published by doctors in the Journal of the American Medical Association (JAMA) highlighted four key reasons why the ban merits reversal.
First, the JAMA authors said, the policy served a purpose at a time when it wasn't immediately possible to know if the donor was infected with HIV, but advances in rapid testing make it possible to know almost at once. Then there's the screening technique, which comes in the form of a pre-donation questionnaire that requires would-be donors to answer truthfully about sexual, drug and even travel habits. This questionnaire, the doctors noted, has been developed to become much more individualized, rather than as broad and sweeping as the MSM lifetime ban. Third, the policy isn't in line with international norms, as several other countries have temporary exclusion policies rather than permanent deferrals for MSMs. 
Finally, and perhaps most damning, is the fact that the lifetime ban is both inconsistent and inequitable.
"While sexually active MSMs face a lifetime ban, men who have had sex with commercial sex workers or with HIV-positive women are deferred for no more than 12 months since the sexual encounter before regaining eligibility," note the authors.
So what can be done?
Despite the frustrations, some LGBT activists are going above and beyond to make things better. One of these tireless advocates is Ryan James Yezak, gay activist and director of the upcoming documentary Second-Class Citizens, who started the National Gay Blood Drive last July to raise awareness about the ban while encouraging a new crop of donors to help save lives. 
Organizers mobilized gay men around the country to visit selected blood collection sites, where they took HIV tests to show their blood was safe and attempted to donate. Presuming all these potential donors were turned away, each participant was encouraged to bring a friend who could donate on their behalf.
Yezak and supporters argue that the FDA and HHS have based their exclusionary policies over the past three decades on sexual orientation and the stigma about sexual orientation and gay sex, rather than a variety of behavioral risk factors associated with sex in general. 
Essentially, this is an issue that should have been settled a long time ago. Sex between two men is a normal, healthy human behavior if practiced with personal health and safety in mind — just as any other sexual encounter. 
It's unfortunate that despite all the progress America has made in terms of LGBT rights this decade, the FDA and the HHS refuse to let go of a 30-year-old stigma.