Manchester City Youth Soccer Team Responds to Racist Abuse in the Best Possible Way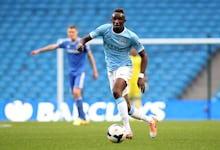 You probably haven't heard of Seko Fofana.
He is a French 19-year-old of Malian descent. He can score goals from 40 yards out. And, as of Monday, he is the fifth Manchester City player to allegedly be racially abused in the past two years.
In a story that is becoming all too familiar — a high-profile club visits a European country and is met with racist abuse — the Manchester City U-21 reserve team alleged that a player on the Croatian side HNK Rijeka racially taunted Fofana during an exhibition match.
Fofana lashed out at the opponent and received a red card. Upon hearing the reason for the midfielder's anger, Fofana coach Patrick Vieira (himself a black Frenchman) approached the referee, talked with his fellow City officials and told his team to walk off the field.
Over the past two years, Manchester City had continued playing in the face of monkey chants in Portugal and Russia, banana-throwing in Ireland and, most recently, racist abuse from Spanish fans and players alike. This clearly was the final straw.
And rightly so. Monday's game may have only been an exhibition game between a reserve team and an obscure Eastern European side, but by walking off the field, Vieira showed that the club would no longer tolerate any of this behavior.
In the immediate aftermath, the Croatian team responded in a mystifying manner, refusing to acknowledge the racism allegations and instead pointing out that City was losing 1-0 at the time.
"To the utter surprise of the packed stadium, [Vieira] withdrew his team from the pitch," HNK Rijeka said in a statement. "The reasons are known only to him. Perhaps he had expected an easier rival, against whom they could easily dominate and easily score, but this wasn't the case against us."
Rijeka issued a new statement Tuesday disputing the allegations and employing the '"some of my best friends are black" excuse: "We strongly reject unfounded racism allegations … Manchester City has posted on its website and want to stress that Rijeka itself had six players from Nigeria on the team.
"We also want to point out that HNK Rijeka, in cooperation with FARE (Football Against Racism in Europe), has been supporting the campaign against racism for years and we strongly condemn every such incident."
It may very well be true Rijeka has tried to tackle racism amongst its fans, yet the problem allegedly lies with one of its players. The club needs to take responsibility for that.
Manchester City has said that it will follow up on the matter. UEFA, European soccer's governing body, will probably fine Rijeka a pittance. The "Sky Blues" probably won't be touring Croatia next summer.
But the most important thing is that City — like AC Milan a year ago — has taken a stand. If the City players are greeted with a similarly vile reception in a competitive match in the future, let's hope they hold their ground. The world would notice.