One Startling Statistic Sums Up Why America Desperately Needs to Raise the Minimum Wage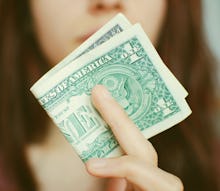 75% of Americans don't think they can live on the current minimum wage. It's a powerful statistic that shows just how badly our current minimum wage system needs to be overhauled.
In a new poll by Public Policy Polling, when asked if they could live on the current minimum wage, 69% of Republicans said no. Despite that admission, only 37% actually back a minimum wage increase.
It's a much larger gap than among other party affiliations. Eighty percent of Democrats said they didn't think they could live on minimum wage, with 74% favoring an increase. Among all voters, 75% didn't think they could get by on minimum wage while 54% were in favor of an increase.
The battle: As the fight over minimum wage continues — President Obama and Democrats in Congress want to raise the wage floor to $10.10 an hour, up from the current $7.25 — one advocacy group is offering a unique challenge to lawmakers. Americans United for Change is asking politicians to live on no more than $77 a week, after housing.
Image Credit: Vox
Two congressmembers taken up the challenge so far: Reps. Tim Ryan (D-Ohio) and Jan Schakowsky (D-Ill.). Schakowsky said she'd like to see more Republicans try it before they decide whether or not to bring the increase to a vote. A similar minimum wage increase bill already stalled in the Senate thanks to the GOP.
"I'm hoping more of my colleagues will take the challenge, especially my Republican colleagues who will decide whether or when to call a vote," she told ThinkProgress. "After they would do it, I believe it would be hard for anyone to deny the importance of moving quickly to raise the minimum wage."
The response: A big part of the pushback to a higher minimum wage is the effect it might have on jobs. If a business can hire 20 employees at $7.25 an hour each, it can only afford 14 of them at $10.10 an hour.
Image Credit: Vox
That line of thinking was echoed in a Congressional Budget Office report, which said the increase to $10.10 would cost 500,000 jobs. A Labor Department study, though, found the opposite effect. States that raised the minimum wage saw faster job growth than those that didn't. Economists are split on the issue of jobs, but tend to agree that wage raises reduce poverty.
Even if the increase doesn't pass, the poll results are still a news flash for Republicans. If you don't think you can live on minimum wage, why keep opposing any kind of help for those that do?