America Is Finally Ready for a Woman in the White House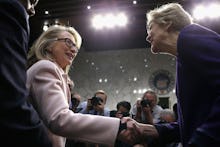 The news: More than ever before, America is on the verge of electing more women to the upper echelons of political office.
That's the sentiment a recent Gallup poll lays out. According to data, Americans would be enthusiastic about a female leader, and most think the country would be better off if more women were in office. Between this and the qualified female candidates poised to run for office in 2016, the country has never been in a better position to elect women.
And boy, is it needed:
Image Credit: Priceonomics
Sixty-three percent of people felt that the U.S. would be better governed with more women in politics, up from 57% in 1995 and 2000. Broken down further, the numbers were somewhat split along gender lines: 69% of women favored more women in government, while only 55% of men felt the same way.
The groups that felt the worst about more women in government were Republicans, married men and conservatives. Those that felt the best were liberals, unmarried women and women aged 18-49.
We're exceedingly close to seeing a woman in the White House, and we're at the perfect crossroads: The candidates are there, public support is there and there's a lack of representation in politics that needs filling. 2016 could be historic, and America now has all the tools to make it happen.  
We desperately need to change the status quo: Despite support for women politicians, the actual number of them in office remains low. Only six out of 23 cabinet-level positions are held by women, and women make up just 18.5% of Congress. On the state level, only 22.6% of executive positions, including governor and lieutenant governor, are female.
Image Credit: Huffington Post
As Gallup notes, this may be more a result of a lower proportion of women seeking office than voters actively dismissing female candidates.
So why aren't women running? As this recent report shows, women face a much tougher time when they do decide to run, which might help explain why fewer run in the first place.
Of the female state legislators polled, only 18% said they had considered running for higher office, while just 35% said they considered politics a career. The findings, released by Political Parity, an organization that aims to increase the number of women in Congress and in governor's seats, said that women face big challenges in fundraising and gathering support from their parties.
"[Political party leaders are] just much more likely to name men and think of men," said Heidi Hartmann, president of the Institute for Women's Policy Research.
Image Credit: Political Parity
Hillary and Elizabeth: This latest Gallup poll suggests that highly visible candidates like Hillary Clinton and Sen. Elizabeth Warren could see more support than anticipated. Though she hasn't officially declared her candidacy, Clinton has been dropping hints left and right that she'll be running in 2016. Her unsuccessful campaign in 2008 aside, she appears to be the frontrunner to lead the Democratic party's next journey to the White House.
Her biggest threat is also a woman: Elizabeth Warren, the progressive darling and senator from Massachusetts, also hasn't definitively ruled out the possibility that she'll run for president. Her candidacy has gained significant attention, enough that the New Republic ran a cover story last November titled "Hillary's Nightmare? A Democratic Party That Realizes Its Soul Lies With Elizabeth Warren."
The candidates are there, and the public wants them to run.
Image Credit: Getty
The takeaway: If one of these two women were to win their party's presidential nomination, it would be a historic event even if they don't make it all the way to the White House. If they do win, they will have done an enormous amount to further the position of women in the political sphere.
Though there is a difference between responding to an opinion poll and casting a vote, the Gallup results clearly demonstrate that Americans are ready for female leaders. If that's any indication, 2016 could be a watershed year for both women and the United States as a whole.