Americans Are Expressing Their Hatred of Congress in a Totally Illogical Way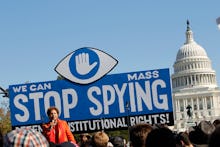 Americans don't show their political anger through passion. They show it through apathy.
Only 7% of Americans have "a great deal" or "quite a lot" of confidence in Congress according to a Gallup poll released last month. That's the lowest it's been since Gallup started asking in 1973 — meaning it might be the lowest it's ever been.
Image Credit: Gallup
We're also on pace for a new low in voter turnout, according to the Washington Post. Research from the Center for the Study of the American Electorate shows that the 25 states that have had statewide primaries for both parties this year have had turnout drop 20% from 2010.
The decline: In 2010, 18.3% of eligible voters cast ballots in the primaries, already shockingly (or maybe not-so-shockingly) low. This year, that has dropped to just 14.8% so far this year.
Image Credit: Center for the Study of the American Electorate via the Washington Post
What's worse, as the Post notes, is that primary turnout was twice as high less than 50 years ago. Primaries are never going to get everyone out of their houses and into polling places, but you have to think we can do better than a measly 15%.
Bad news for Democrats: Unfortunately for the left, all apathy isn't created equal. Republican primary turnout did drop from 2010 to 2014, but that's after a big increase from a 2006 low. In the three decades prior, turnout had been pretty steady.
Image Credit: Center for the Study of the American Electorate via the Washington Post
Democrats, on the other hand, have seen a long, harsh decline. And this year marks the biggest downturn on record, according to the Post, from 8.7% to 6.1%. Republicans tend to be older and better off, which makes them more likely to turn out. Younger Democrats, it seems, are a bit flakier.
If Dems can't get their base to the polls in November, it might cost them the Senate. The not-so-silver lining? Lots of Americans might not even notice.