Dutch Anger Has Now Turned to the Mysterious Daughter of Vladimir Putin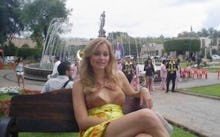 The news: More than half of the 298 people killed when Malaysia Airlines Flight MH17 was shot down on July 17 over eastern Ukraine were Dutch citizens. Since the murderers responsible are widely believed to have been pro-Russian separatists, fury in the Netherlands has largely been directed at Russia — and now at Russian President Vladimir Putin's daughter Maria, who lives in the Dutch city of Voorschoten.
Hilversum mayor Pieter Broertjes demanded in a radio interview on Wednesday morning that Maria Putin (believed to be pictured above) be thrown out of the country, where she is rumored to cohabitate with her Dutch boyfriend Jorrit Faassen. Soon after, Broertjes apologized and admitted his remarks were "not wise" but "stemmed from a feeling of helplessness that many will recognise."
Hilversum mayor Pieter Broertjes. Image Credit: AP
According to Dutch newspaper De Telegraaf, peaceful protests are planned to take place outside the apartment where Maria Putin is thought to live. The paper also published a photo of the building itself, which actually looks pretty nice.
Wait. Hold the phone. Putin has kids? Yes, two of them. You might be forgiven for not knowing about them, since they live under a veil of secrecy so tight that they've "never been officially photographed as adults." Maria and Yekaterina Putin are both in their late 20s and are said to be so sheltered that ordinary Russians wouldn't recognize them on the street.
In 2012, Business Insider compiled what was actually known about the daughters, and it's a really short list. In 2010, Yekaterina was rumored to have married her boyfriend, the son of a South Korean admiral. But the news was officially denied by both the Kremlin and the admiral. Maria's oft-suggested boyfriend Faassen holds senior roles in Russian firms Gazprom and Stroytransgaz, and was reportedly assaulted by bodyguards of Russian banker Matvey Urin in a road-rage fight. Urin was later prosecuted for fraud and sentenced to a suspiciously long prison term. In 2005, pravda.ru reported the girls attended St. Petersburg University. An assistant to Maria Putin's godfather told the New York Times in 2012 that Putin might be displeased if details about the daughters ended up in the press.
Definitely displeased. Image Credit: Getty
Putin's daughters are a complete enigma. That shouldn't be a surprise, considering Putin used to be a successful KGB officer who keeps his personal life and (likely immense) financial assets totally hidden.
This kind of intense secrecy might come as a bit of a shock to Americans, who are privy to incredible detail about Obama's daughters' lives. But hey, welcome to Russia. Things are kind of different there.