Meet the Woman Taking Down the Late-Night Television Boys Club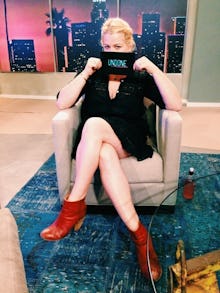 Since its very beginning, late-night television has been a white boys' club. Although some of the most memorable TV performances by comedians lately have been by women (Tina Fey and Amy Poehler bringing it at the Golden Globes, anyone?), men continue to command the space. It's possible to count the number of prominent late-night female hosts on one hand — in fact, you'd only need one hand because it's just Joan Rivers and Chelsea Handler. But Rivers lasted eight months on Fox before she got cancelled, and Handler was taken off the air after eight seasons on E!. She has since moved to Netflix. If you do the math, that brings us to zero women in late-night — at least, until now.
In the midst of this depressing, bro-dominated comedy fog, Amanda de Cadenet is a shiny new ray of light. The British-born actress and comedian is taking on late-night with Undone, a powerfully subversive show premiering Thursday night at 10:30 p.m. on Lifetime. 
As the founder of The Conversation, a show based on a series of interviews with female celebrities like Jane Fonda and Alicia Keys, de Cadenet has made it her mission to produce content that challenges the way we see women. With Undone, de Cadenet is positioning herself not only as the only female host in late-night, but she'll be doing it backed by an all-star, female-dominated team. When asked about the gender composition of the team, de Cadenet told Mic, "We walk the talk over here! Ninety percent of my team are female." She's not kidding: The director of the show, the assistant producers and the entire writing staff are all women.
As she prepares for the first episode, de Cadenet told Mic she sees her project as an entertainment-based endeavor with a strong social mission. "No matter what the final outcome is on this show, just by being on air I hope I move the dial for women in late-night TV in some way. Women-fronted shows are needed, are being asked for, and I would love to see more of them being commissioned."
But de Cadenet is not alone in her desire to push women into the late-night sphere. In fact, her words have been echoed by many in the industry. According to Dorian Hannaway, the former director of late-night programming at CBS, the majority of viewers are female, and the networks should be catering to those viewers. 
When asked why there is such a dearth of female-driven shows, de Cadenet blames an immovable culture stuck in its ways and a lack of women at the top. "Ultimately I think that the late-night real estate is dominated by male hosts because that is just how it's always been. I'm pretty sure most network executives haven't given it much thought that there are no women in that space. It may not be a relevant issue until we have more women running the major networks," she told Mic.
Although de Cadenet mostly owes her success to working her butt off (a Renaissance woman, she was the youngest woman to ever shoot a Vogue cover), she also attributes her place in the industry to the ever-growing support of women in her field — women like Chelsea Handler, an invaluable influence. "If it weren't for her being convinced I could host her show in her absence, I would not have been reminded of how fun it is hosting a 30-minute late-night show," she told Mic. "Undone is all Chelsea's fault. Actually, it's my friend Whitney Cummings' fault for introducing me to Chelsea ... You see what happens when women support one another?"
As a self-identified feminist, de Cadenet also hopes to give late-night a female edge. "My show highlights a woman's point of view, the news and topics that mean something to me, my team and hopefully many other women. Does that make my show a feminist show or just a show that reports women's news with more commitment?"
Whatever we call it, it's going to change the late-night comedy landscape. Tune in Thursday at 10:30 p.m. on Lifetime to catch de Cadenet creating her own slice of comedy history.