5 Fantastic Feminist Novels to Read This Weekend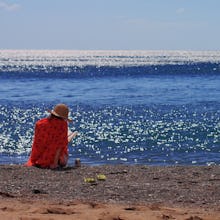 Nerdy is the new black — so much so, in fact, that book clubs are back in fashion.
If you're anything like my close circle of young, newly professional, busy and nerdy women, planning a book club meeting often requires a few failed scheduling attempts and serious negotiations about who will bring the wine. But we are also yuppies with a feminist bent — and a tendency to pick books with strong female characters.
In fact, according to the New York Times, approximately 5 million Americans gather with friends and fellow bibliophiles on a semi-regular basis to discuss literature. So my friends and I aren't alone, nor will you be.
Whether you're looking for your next book club book yourself, something to read (or sleep next to) on the beach, or a distraction for your morning public transit commute, here are a few books that fit perfectly in our Feminist Book Club, and are great picks for yours too.
1. 'Americanah' by Chimamanda Ngozi Adichie
Image Credit: Amazon
What it's about: Adichie, now immortalized in pop culture as the fearless feminist voice in Beyonce's hit song "Flawless," offers up a story of two erstwhile teenage sweethearts in Nigeria and beyond in her book Americanah.
Given Adichie's popularity, there's a good chance your book club has already read Americanah, but that doesn't take away from its greatness. It's long but gripping, half thanks to a love story that crosses oceans and many years, and half thanks to some brilliant discussions of race and gender in America, disguised as blog posts written by the character Ifemelu. Much of the book centers on Ifemelu's relationships with men, from her boyfriends to her young nephew.
If you like Americanah, also check out Demarginalizing the Intersection of Race and Sex: A Black Feminist Critique of Antidiscrimination Doctrine, Feminist Theory, and Antiracist Politics by Kimberle Crenshaw and This Bridge Called My Back edited by Cherrie Moraga and Gloria Anzaldua. These now-classic pieces of feminist literature by and about women of color supply the perfect background for Ifemelu's blog.
2. 'Swamplandia!' by Karen Russell
What it's about: After her mother dies, 13-year-old Ava narrates the decline of her family's alligator-centric amusement park in the Florida Everglades. Her brother leaves home for the mainland, her sister runs deep into the swamp to marry a ghost and Ava herself has lofty dreams. She believes that, if she can get her diving and alligator-wrestling skills up to par, and if she can rescue her sister, she can save the business, along with her family and their way of life.
The book is enchanting, hypnotic and unsettling. As a self-identified feminist, Karen Russell often writes about young women with unusual voices in semi-mythical situations, and Swamplandia! is no exception.
If you end up becoming a fan of Russell's book, read Gender Trouble and Bodies That Matter, both by Judith Butler, for the meta, ground-shaking and often mystifying theorizing on gender and identity … not unlike Karen Russell's fiction.
3. 'The Edible Woman' by Margaret Atwood
Image Credit: Amazon
What it's about: This 1969 novel follows the ordered life of Marian, a working girl in 1960s Canada. After her boyfriend proposes, she slowly finds herself unable to eat. Atwood's story explores Marian's impending marriage, the social structures for women at the time and how her fiancé metaphorically "devours" her personhood.
The Edible Woman is enticing because it reminds us both of how much the world has changed since it was written, and how things have stayed remarkably the same: Marian and her roommate go out, go on dates and try to figure out how to navigate their young independence, while at the same time dealing with the rigidity of 1960s gender roles that feel incredibly foreign to readers of our generation.
If you like The Edible Woman, read How to Be a Woman by Caitlin Moran for its present-day contrast with The Edible Woman's "proto-feminism." Prepare to laugh at, be challenged by and even disagree with this engaging and problematic memoir-manifesto.
4. 'Young Money' by Kevin Roose
Image Credit: Amazon
What it's about: Journalist Kevin Roose followed eight young Wall Street neophytes during their first two years in the banking industry. The book is a mix of the salacious — in one chapter, Roose sneaks into a secret, drunken party of Wall Street elite — and serious as we learn about the hierarchy and prestige of different entry-level banking jobs. It's a glimpse into the fast-paced and stressed-out world of some of the United States' most privileged young professionals.  
Despite a few pages on the lack of women in finance and the lurking sexism on Wall Street, this was not an obvious Feminist Book Club choice. Still, it's a fascinating glimpse into a world that is entirely unknown to most 20-somethings and a world that has been traditionally cast as misogynistic. The inside glance is riveting and will either justify or make you question your career choices.
If Young Money gets your wheels turning, you may wish to read one of the many articles and polling data on 20-somethings and work, such as those found here, here, here and here. None are totally satisfying, but the polling data are a fascinating look at who we are and what our generation believes.  
5. 'The Beekeeper's Apprentice' by Laurie R. King
Image Credit: Amazon 
What it's about: Whenever I found myself missing the last few chapters of the month's Feminist Book Club pick, it was likely because I was reading one of the cult-classic novels in Laurie R. King's Mary Russell Series. Amid the backdrop of the early 1920s, a wealthy young feminist and budding Jewish theologian meets and partners with – both in work and life – Sherlock Holmes and, of course, they solve mysteries together. These are Mary Russell stories, not Sherlock Holmes stories (it takes a little bit of artistic license and mental gymnastics to bring the Victorian character into the 20th century), and it's great fun to follow Mary's growth, as well as her feminist religious and political interpretations, throughout the series. 
If you like The Beekeeper's Apprentice you're in luck as it's a set up for series of (so far) 12 books. It's the ones that come after in the series – A Monstrous Regime of Women and A Letter of Mary – that are pure feministy fun.