Jon Stewart Just Launched the Most Brilliant Takedown of CNN We've Seen Yet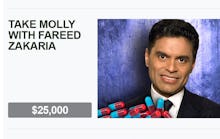 Ever wanted to own a television station? Now's your chance.
On Tuesday's episode of the Daily Show, host Jon Stewart announced a Kickstarter campaign to purchase CNN. And his reasoning, as expressed on letsbuyCNN.com, is: "CNN, America's first 24-hour cable news network, has been terrible for many, many years. Does it have to be that way? Who knows, maybe it does. So let's find out for ourselves!"
(There are a few obstacles though. One is that the goal is $10 billion, which is a ton of money of raise. The second is that the Kickstarter campaign isn't exactly real — which is probably for the best, given how much money people gave up for potato salad.)
CNN isn't for sale, but it could be: Fox News owner and super rich guy Rupert Murdoch, who floated an $80 billion offer to buy Time Warner, has expressed interest in purchasing the company, and though Time Warner turned him down, he's not ready to give up just yet.
Time Warner owns CNN, which means Murdoch would have to offload it if he purchases the corporation. (The same person can't run two competing news channels.) That's where Stewart comes in.
What do you get when you run CNN? Apparently you get a channel that finishes last in the big-time cable news rankings repeatedly. Fox News repeatedly claims the No. 1 spot, with shows like the O'Reilly Factor, the Kelly File and the Five leading the way.
MSNBC consistently takes second, featuring pundits such as Rachel Maddow and Chris Matthews. CNN has been bad and getting worse — its total day viewers in May were down 33% compared with May 2013, while prime-time viewership was down 39% over that same time frame.
Buying CNN, though, would clearly be more of an emotional investment for Stewart. The Kickstarter's rewards mock some of CNN's more tiresome tropes:
Images Credit: The Daily Show
Is it silly? Yes. But not as silly as CNN.