The NFL Thinks Smoking Weed Is Eight Times Worse Than Beating a Woman Unconscious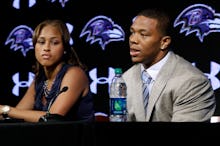 Ray Rice is an All-Pro running back entering the third year of a five-year, $35 million contract with the Baltimore Ravens.
In February, Rice allegedly beat his then-fiancée, Janay Palmer, in an elevator at the Revel Casino in Atlantic City, N.J. Days later, TMZ posted a video that appears to show Rice dragging Palmer out of an elevator. One witness described the knockout punch to Deadspin as an "uppercut."
In May, Rice conducted a breathtakingly tone-deaf press conference addressing the incident. The timing — 3 p.m. on the Friday before Memorial Day weekend — suggested the Ravens were trying to draw as little attention as possible to the proceedings, which, in hindsight, wasn't the worst idea. The scene alternated between surreal and tragic, bottoming out when Palmer conjured the decency to apologize for her role in getting beaten senseless.
Rice pleaded not guilty to third-degree aggravated assault, turned down a one-year probation deal before avoiding criminal punishment altogether by entering a pre-trial diversionary program. No fuss, no muss. But that didn't mean he would escape punishment from NFL commissioner Roger Goodell, who can act within league's personal conduct policy as judge, jury and executioner to suspend players even if they are not charged or convicted of a crime.
Here was an politically safe opportunity for America's richest and most powerful sports organization to send a strong message regarding violence against women.
On Thursday, the message was received, loud and shamefully clear.
The NFL suspended Rice for two games and fined him an additional game check. Turns out there is a cost for domestic violence: $705,882.
Consider that Josh Gordon, a wide receiver for the Cleveland Browns, is facing a 16-game suspension — an entire NFL regular season — for testing positive for marijuana. Sure, Gordon had failed a piss test for weed previously, but Rice's punishment still feels a tad light, even if it was only the first time he nearly beat a woman to death.
Goodell has become an familiar target, not least due the apparent double standard that exists in disciplining players versus executives and what's been regarded as a warped relationship between crime and punishment. Like when Terrelle Pryor, a quarterback for the Seattle Seahawks, was suspended for five games for using a tattoo parlor while in college, an offense that predated his NFL career.
But the response to Wednesday's announcement suggests the problem is more institutional than anyone would care to admit. Rice's coach called him a "heck of a guy" whose "mistake" will serve as a valuable lesson for kids. ESPN's Adam Schefter, probably the most visible reporter covering the NFL today, wondered out loud if the punishment was too harsh. (Not a joke.)
The good news? In an ESPN.com poll, a majority of respondents thought the NFL's punishment was too lenient.
Image Credit: ESPN.com
Problem is, the NFL's wrist-slap does little to alter the view of the 6% who think Rice was treated unfairly, or the 34% who apparently believe that burning one down is eight times worse than domestic violence.
The NFL has aggressively courted female fans (and their disposable incomes) over the past decade. Steps have included merchandise specifically marketed to women, ladies-only fan clubs and an annual month-long breast-cancer awareness campaign (that may not be as altruistic as it seems). Yet the NFL's leniency on Thursday shows women are customers first and last. Something tells us those pink Ray Rice jerseys won't be top sellers this year.
"It is disappointing that I will not be with my teammates for the first two games of the season, but that's my fault," Rice said in a statement. "I failed in many ways."
He's not alone.